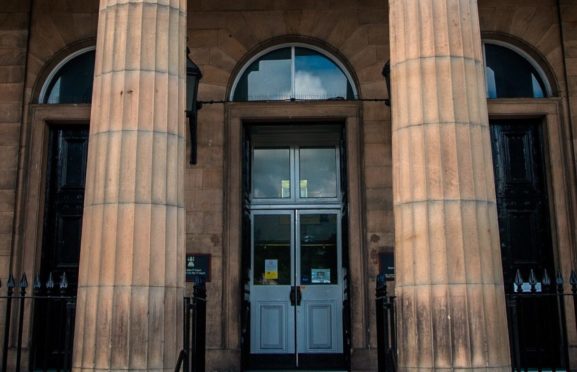 A dangerous driver broke his own neck after overturning his car on a Perthshire road.
Gavin Ewart had earlier been seen mounting verges and pavements as he travelled between Meigle and Coupar Angus.
When police caught up with his vehicle they saw him take a bend in the road, only to find that him crashed on the other side.
Perth Sheriff Court heard the 30-year-old had only regained his licence the previous month following a ban.
Depute fiscal Clare Kennedy told the court: "The accused's vehicle was observed to be driving at 40 or 50mph and was seen to pull into the path of another vehicle. Further up the road he collided with the kerb twice while driving through Meigle.
"He was later seen to mount the pavement and almost collide with two vehicles travelling in the opposite direction.
"On the A923 a police unit observed the vehicle driving at excessive speed.
"After a shallow right hand bend there was no sight of the vehicle but it became clear that, as there was debris on the carriageway, the vehicle had collided with a large drystone wall and come to a rest on its side."
Solicitor David Holmes, defending, said Ewart had suffered a dislocated shoulder, a broken collarbone, four broken ribs and fractured a bone in his neck. He spent two weeks in hospital recovering.
He added that Ewart still suffers from shoulder problems as a result.
Ewart, of Alyth, had previously admitted driving dangerously on the B954 between Meigle and Muirhead and the A923 between Muirhead and Coupar Angus, near Fowlis, on October 29 2916.
Sheriff Lindsay Foulis said: "This is not an isolated incident of dangerous driving and the distance you drove is not insignificant. In the course of that you're driving at excessive speed, colliding with verges and pavements, going onto the opposite carriageway and causing other road users to take evasive action to avoid a collision.
"You were unable to control your car, causing damage to a wall and your vehicle and significant injury to yourself.
"You have two very significant previous convictions for road traffic matters and you only got your licence back a little over a month before this incident.
"If your actions had had fatal consequences then you would not be before this court, you would be before the High court facing a custodial sentence measured in years rather than months.
"It may be that as a result of languishing in a prison cell you may come to your senses. Until you come to your senses you are a danger to other road users."
He jailed Ewart for six months and banned him from the road for three years. He must also sit the extended driving test.