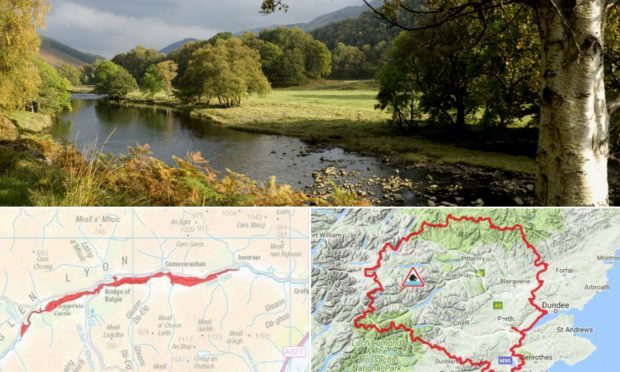 Surging river levels and "heavy and persistent rainfall" have prompted a flood warning in Perthshire.
The Scottish Environment Protection Agency (Sepa) said that Glen Lyon is at risk following an overnight downpour in the area.
Farmland neighbouring the River Lyon is most vulnerable.
Sepa has also issued a flood alert for a large section of Tayside – stretching from the Highlands to Perth and Kinross-shire – as a result of the downpour which landed overnight.
The government body said that roads and land within the area are at risk of flooding.
A Sepa statement on the Glen Lyon flood warning added: "A flood warning has been issued for Glen Lyon. River levels have risen due to overnight rainfall.
"Further rainfall is expected throughout the morning, which will keep levels high. Low lying agricultural land adjacent to the River Lyon is at risk of flooding.
"Further updates will be issued as appropriate."
Sepa told locals to "remain vigilant".
The Tayside alert states: "A flood alert has been issued for Tayside. Heavy and persistent rainfall is expected from Monday evening which will continue throughout Tuesday.
"This will lead to a risk of localised river flooding of land and roads from watercourses throughout Tuesday afternoon.
"Surface water flooding issues are expected on Tuesday also. Wet road surfaces and ponding could cause difficult driving conditions and localised disruption to travel."