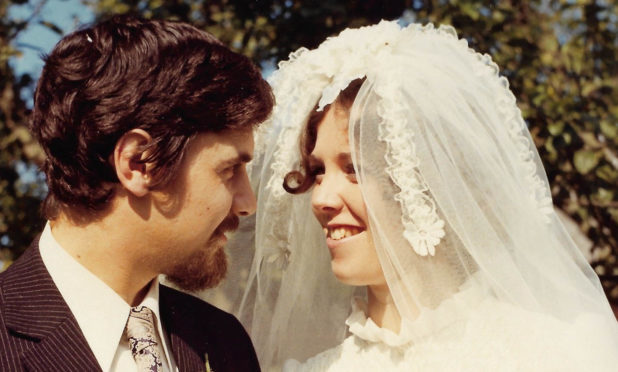 A joint funeral has been held for a Perthshire couple who lost their battles with cancer just days apart.
John and Moira Abercrombie, who were married for 46 years and barely spent any time away from each other, shared a service at Dundee Crematorium on Tuesday.
The family of the Inchture couple said they took comfort knowing they were together again.
Moira, 67, died at Roxburghe House surrounded by loved ones, nearly two years after she was diagnosed with advanced overian cancer.
Seventy-year-old John, who found out he had end-stage pancreatic cancer in October 2017, had died just two weeks earlier.
Daughter-in-law Alison Abercrombie, wife of eldest son Robert, said: "The coincidences of John and Moira being admitted on a Friday and passing on a Sunday, two weeks from each other, has not gone unnoticed and the family is taking great comfort that they are both together again.
"Having never spent more than two weeks apart since they married almost 50 years ago, we are truly of the belief that Moira simply waited long enough to know that John's arrangements were taken care of before going to sleep and joining him."
The family took the decision to postpone John's ceremony and host a joint occasion.
Originally from Glasgow, John moved to London when he left school and started work as a civil servant.
He met Hertfordshire-born Moira shortly afterwards while she was training at the University College Hospital in London.
The pair were married in Berkhamsted in September 1972 and moved to Scotland three years later.
They lived briefly in Edinburgh, where they had two sons Robert and John, before settling in Inchture in 1978. Their third son Stuart was born in 1981.
The couple were also kept busy training five dogs for Guide Dogs Scotland.
Moira, who worked as a nurse her whole life, took time out to care for her young family, but later went to work in the Brain Injury Rehabilitation Unit at Dundee Royal Infirmary.
John worked as a purchasing rep for Kimberley Clark, and also for Best Western and Beacon Purchasing, before his retirement in 2007.
Moira retrained as an MS specialist nurse when DRI closed and she continued to work across Tayside, caring for patients with very complex needs. She retired in 2011.
The family was dealt a blow in September 2016 when Moira was diagnosed with ovarian cancer. She was cared for by her husband throughout her treatment.
John was diagnosed just over a year later.
Mrs Abercrombie said they both "bore their illnesses with considerable privacy and modesty, so much so that many people on hearing of their passing have told us they didn't know they were ill."