A Perth mum-of-two has sent a heartfelt thank you to paramedics who raced to the scene after her 10-month-old baby stopped breathing.
Catriona Grant was at home with her youngest child, Rosie, when the infant started having breathing problems just before 11am on Saturday.
The 29-year-old called 999 immediately and within minutes paramedic Irena Davidova and trainee technician Valerie Fairgray arrived at her home.
Ms Grant, who described the incident as "scary", said: "I put in an emergency call asking for an ambulance because Rosie couldn't breathe all of a sudden.
"The paramedics arrived within minutes but thankfully she had cleared her airway on her own in that time.
"The crew who arrived were so kind and I just want them to be recognised for this. They spent about 30 minutes checking her over."
Ms Grant, whose three-year-old daughter Isla was away at the time of the incident, said she wanted to thank Irena and Valerie – both based at Perth Ambulance Station – for their "genuine kindness".
She said: "Rosie is doing fine now. It's very scary when your child stops breathing properly, but the paramedics were so reassuring and thorough.
"They treated us with such genuine kindness and it really struck me. I want them to know how grateful I am and what a wonderful a job they did."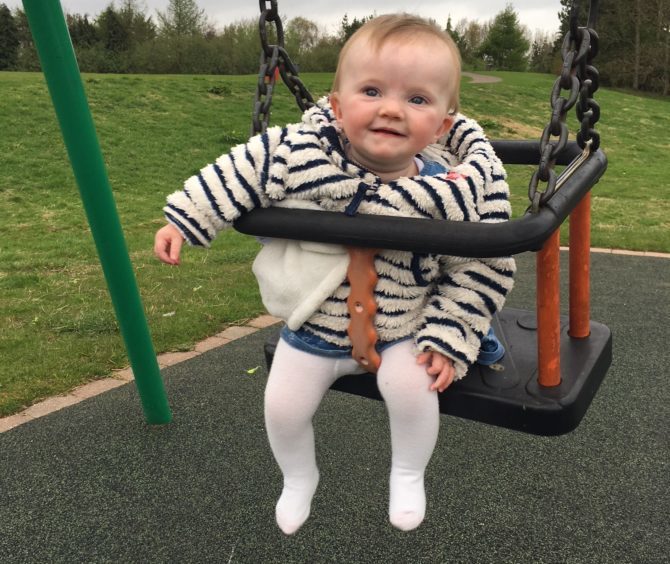 Lewis Campbell, Scottish Ambulance Service east regional director, said: "Our ambulance crews are highly trained in keeping their cool and dealing with these kinds of emergency situations.
"While this may have been a routine call for them, Irena and Valerie, the two paramedics who helped Ms Grant, did a great job – we're very proud of them and we're grateful for Ms Grant's thanks.
"I would also like to thank the call handler, Rebecca Jones, and the dispatcher Andy Cocozza, who assisted during the incident.
"The crew arrived within minutes of the Scottish Ambulance Service receiving the emergency call and while this was obviously a very stressful time for Ms Grant, it's great to know her and young Rosie are doing well."