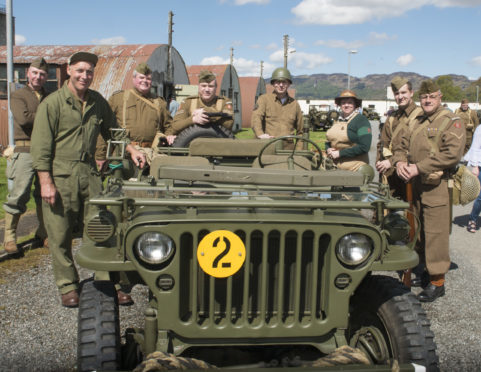 A collection of "internationally significant" cartoons drawn by a mystery inmate went on display at a former Prisoner of War camp this weekend, as part of a living history extravaganza.
The 66 pen-and-ink drawings depict life behind bars at Cultybraggan, near Comrie, which once held thousands of hardline Nazis.
On Saturday, the full selection was unveiled to the public for the first time during the camp's Carry On, Culty festivities.
Iconic military vehicles and history re-enactments with actors in authentic uniforms drew crowds to the camp throughout the day.
Visitors were also encouraged to come along in 1940s-style outfits.
The event was put together by the Comrie Development Trust, which took over the camp with plans to preserve it for future generations.
The cartoons, showing snowball fights and card games, proved to be one of the biggest attractions.
Experts say the sketches perfectly illustrate feelings of relief — being away from the fighting — as well as the pain of being hundreds of miles away from home and loved ones.
Saturday was also a chance for visitors to check out part of a new feature-length documentary about the camp.
The film, made by local production company Mousehole Films, features interviews with among others former inmate Paul Lippok, who moved to Tain, Ross-shire after his release.
Also featured is Shirley Wilson, whose family developed a close relationship with young POW Helmut Stenger and George Carson, whose mother was one of a group of girls who helped get inmate Heinrich Steinmeyer out of the camp for a night at the pictures in Crieff.
He was disguised in school uniform to avoid suspicion from fellow cinema-goers.
Steinmeyer was so touched by the kindness shown by local people that he left his estate and home, worth nearly £400,000, to the people of Comrie.
He also had his ashes scattered on the hills overlooking the camp.
Visitors to Carry On, Culty also enjoyed a live swing band, jitterbug dancing and music from Comrie Pipe Band, as well as a display by Highland dancers.