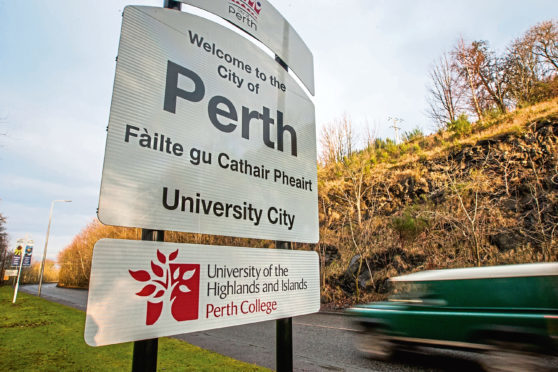 Perth and Kinross Council could be asked to consider a "tourism tax" to help pay for the running of the region.
Peter Barrett, leader of the Liberal Democrat group in the Perth and Kinross Council coalition and vice convener of the strategic policy and resources committee, said he saw some merit in the scheme, which has already been approved in Edinburgh.
However, the proposal has been blasted by the local Chamber of Commerce, which said it would turn off visitors and reduce spending.
The idea has been gaining traction across the country after Edinburgh City Council voted to trial a visitor levy in the capital, which would see an extra £1 added to hotel bills and profits spent on improving infrastructure.
Areas such as London and the Highlands, which has seen a massive influx of tourists visiting Skye and the North Coast 500 route, are also understood to be exploring it.
Mr Barrett, vice convener of Perth and Kinross Council's strategic policy and resources committee, said similar taxes already existed in some of the most-visited cities in the world.
"Visitors to Perth enjoy our parks, green spaces and clean streets," he said.
"They travel on our roads network and use our public Wi-Fi so I see no reason why they shouldn't make a contribution towards the costs of all those services.
"I have paid local visitor taxes in Paris, Berlin and New York so you wonder why this is such a big deal in Scotland and why we are lagging behind?"
However, Vicki Unite, chief executive of Perthshire Chamber of Commerce, said the tax would put off visitors and leave those who do come with less to spend during their trip.
"The UK is already at a disadvantage VAT-wise compared to other destinations and any extra costs imposed on visitors will have a negative impact on our region's tourist industry," she said.
"Our region attracts more than 1.9 million tourists annually and tourism accounts for around 12% of total employment in the area.
"Many other sectors benefit from tourists and it would also have a damaging impact on the wider leisure economy as visitors have less money to spend on other aspects of their visit."
Perth and North Perthshire MP Pete Wishart said: "I'm not averse to a tourism tax in general but I think it would be more suitable to the larger cities like Edinburgh.
"More people coming to Scotland are going to visit Edinburgh anyway and what we are trying to do is attract them out to Perthshire, not do anything which would make it more expensive or difficult for them to come.
"If big cities had the tax and we didn't that would actually be an attraction to Perth, it would give us a competitive edge."