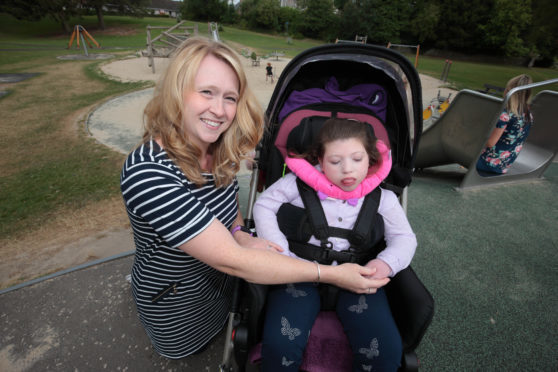 A Perth mother has thanked local residents for helping her mission to build a wheelchair accessible play park.
Claire Wilkie has been given the green light from Perth and Kinross council chiefs to build a play area in North Inch for her eight-year-old daughter Maisie, who suffers from Cerebral Palsy.
Despite the agreement in principle, the family has to raise £60,000 to make it happen.
After setting up the Maisie Moo Magical Moments campaign, Claire said the support from locals has been amazing.
She said: "It initially started through a close family friend, Katharine McKay.
"She started to come out with us on a daily basis and seen the struggles we go through.
"We decided to start fundraising at a very small level to get things like an alerting buggy, before helping other children with complex needs gain equipment.
"Now we want to do something bigger and have wheelchair equipment in North Inch park.
"We have had a lot of support in the last week, with people contacting us for more donations and local companies offering raffle prizes.
"We have about £3,000 on our fundraising page, with lots of donations from friends and local companies.
"I would really like to thank everyone for the support so far, it has been amazing.
"Our next step is to start coffee mornings in November and to have a fundraising ball at some point.
"The Perth and Kinross Netball team got in touch and they want to hold a tournament for us in September, with all proceeds going to the Magical Moments campaign."
With her condition, Maisie cannot communicate verbally and needs hearing aids and to be tube fed.
The situation means play time becomes extremely difficult, with the family having to travel around 45 miles to Cumbernauld for the nearest accessible park.
Claire said the plans for North Inch can help more children like Maisie in the local area.
She added: "This is not just for Maisie. She goes to Fairview School in Perth for children with complex needs and this would help them.
"North Inch is ideal as Bell's Sports Centre nearby has all-inclusive changing facilities.
"Quite often if you are out for the day, I have to go home when Maisie goes to the toilet as she has no control.
"We want to make it as inclusive as possible for those with and without disabilities for the whole community."
You can donate to the family at www.gofundme.com/helpmaisieplay and keep up-to-date with the project on their Facebook page 'Maisie Moo Magical Moments'.