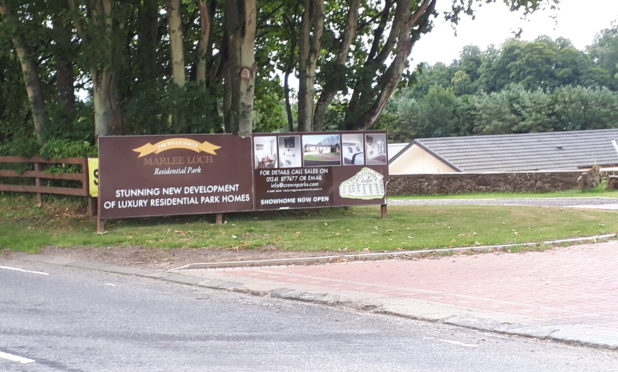 Residents of a Perthshire retirement park say they are desperate to move, due to high utility bills and ongoing rows with the site owner.
A group of homeowners at Marlee Loch Residential Park, near Blairgowrie, have put their homes up for sale, saying life on the site has become unbearable and unaffordable.
One resident said the final straw was a £1,500 gas and electricity bill for three months, while another was charged £900.
A row about landscaping work at Marlee Loch is ongoing after residents were told improvements would be completed in a matter of weeks but are still waiting three years later.
Seven of the 19 park homes are on the market but owners fear they will never be able to sell them due to the problems.
A group of residents who spoke to The Courier asked not to be named but are acting under the collective Marlee Loch Residential Park Residents Association.
One said: "By law the owner is supposed to show us what he is paying in gas and electricity but he refuses to let us see the bills, even though we keep asking.
"When we moved in we were promised tarmac roads, a security gate and beautiful landscaping.
"The day we moved three years ago we were told the tarmac would be done in a month and it still isn't."
The Courier has seen letters to site owner Cresswell Welch asking for the work to be completed, as well as requests for copies of the park's gas bill.
Creswell also owns Seaton Estate in Arbroath and 15 parks in England.
In January, gas prices were increased by 37% to £3 per unit, which residents say is double that of similar parks.
Another homeowner said: "Our property is up for sale but until this is all sorted I don't see anybody wanting to buy it.
"We knew it was a building site but not for this long. There's a complete lack of respect for the people in their own homes."
Crown Parks sales and development manager Nathan Smith admitted legally taking a "small profit" for supplying gas and agreed to provide The Courier copies of gas bills to show the profit margin, but these were not sent.
He said the company did not recognise the residents association since it does not meet national criteria, despite being a member of the Scottish Confederation of Park Home Residents Associations.
"This is a small group of people trying to cause trouble," he said.
"Every time I have sold a home I have made it clear that it is an ongoing development.
"Our gas provider put our prices up so our prices increased too. We have no problem showing people what we pay.
"It's an idyllic park, we have a lot of happy customers and we want to get the work finished more than anybody because we have a lot of money invested."
In 2016, residents of Seaton Eastate served a writ on Creswell, when he refused to recognise the residents association there.
At the time, he said he had not seen evidence to show that 50% of residents were members, the qualifying criteria for an association.