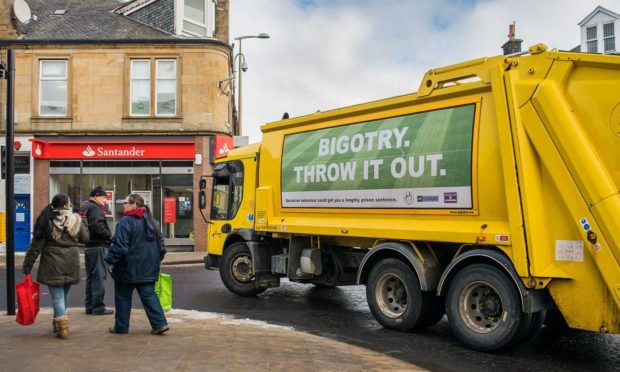 Council leaders are looking at advertising to pupils in schools after a plan to sell space on the side of bin lorries failed to take off.
Officials have been trying to sell space on vehicles, buildings and roundabouts since 2016 but councillors were told yesterday "the market in this area just isn't there" and the scheme's projected income target is being cut.
Councillors reacted with surprise and concern as it emerged at a committee session on Wednesday the shortfall could be made up by advertising in schools.
Barbara Renton, executive director of housing and environment, said: "We've been looking at any asset where we can sell the space.
"We've been quite successful in terms of roundabouts, but not so successful in terms of anything else, although we have been working with our schools and our head teachers about advertising within the school arena as well and whether that could bring in additional income."
Two years ago, the strategic policy and resources committee unanimously agreed to look for advertising link-ups involving council assets.
Part of the council's transformation programme to encourage greater entrepreneurship in the public sector, it was thought the scheme could bring in £50,000 a year in "ethical advertising".
Councillor Alasdair Bailey, Labour, said the new schools proposal was "deeply concerning."
---
>> Keep up to date with the latest news with The Courier newsletter
---
He told the committee: "I'd like to pick up on the response around the opportunities for advertising in schools being explored. I assume that elected members will have oversight of that?"
Speaking after the meeting, he added: "As a parent, I already hear concerns from other parents about some existing commercial initiatives in our schools. Therefore, I wouldn't want us to find ourselves in a position where this council sets a target for monetising the pupil audience through advertising sales."
Committee vice convener Peter Barrett, Liberal Democrats, told the committee: "Proposals for this sort of income generation will be tested first in a working group. It would then go the appropriate committee for approval and for councillors to then take a decision on the matter."
Matthew Evans, Advertising Association communications manager, said the idea was "not one that had come across our desks before."
"In the UK, there are strict rules on advertising products to children. With regulations such as that it would be unusual to do so inside schools."
But Ed Brooke, head of Edinburgh's Leith Agency – the creative team behind many high profile Scottish Government health campaigns – said it would be acceptable if done in the right way.
"I would imagine there would be a number of suitable products, such as items pupils may want for sport or items they use in the classroom setting that may be very relevant."