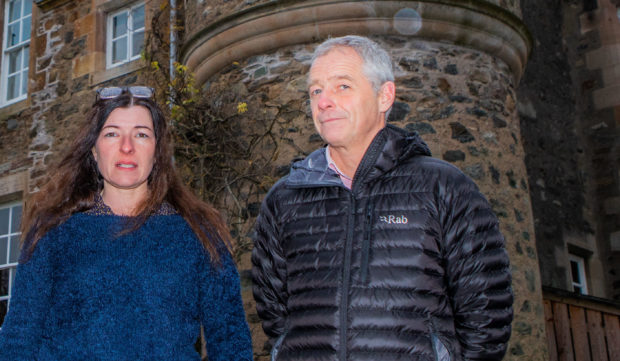 A school for children with additional support needs was closed as the result of a "vendetta" orchestrated by Perth and Kinross Council, its three most senior staff have said.
Head of school Bill Colley, 57, head of care Angie Gordon, 46, and principal teacher Allistair Mathieson, 48, have spoken about the New School Butterstone closure for the first time, saying the wellbeing of the school's pupils has been sidelined as part of an official push to shut it down.
They have called for a public enquiry, putting further pressure on education secretary John Swinney, who met with parents and pupils last week.
Only one of the school's 24 pupils has so far managed to secure alternative educational provision as parents warn the former pupils have "regressed" since the school was closed with only four days' notice last month.
Mr Colley was one of three staff suspended as part of an investigation at the school. He said: "Was there a vendetta? Yes.
"If they had measured the level of care in the school then they would have seen that the quality of care is of a very high standard. The children were happy and thriving.
"The difficulty for Perth and Kinross is that they couldn't stop children from coming here. They were losing tribunals, parents were fighting hard to get their parents in, and the school role was rising at a more rapid rate than it had been for years. So in a sense, we had become too successful."
The Care Inspectorate and Education Scotland issued the school with an improvement notice days before the school's board of governors told parents and carers it was now "financially unviable".
The statutory bodies said the school was told to improve after it found "significant concerns about how children are protected from harm."
A Police Scotland spokesperson confirmed that during November 2018 a joint investigation found "no evidence of criminality" at the school.
He said: "From this investigation, Police Scotland established that there was no evidence of criminality.   The Care Inspectorate were updated with this outcome."
But a further report, carried out by education provider Witherslack Group – which had been committed to buying the school prior to its investigation – did raise concerns about the way child safety incidents were handled.
The three senior school staff claim that the Care Inspectorate improvement notice led directly to the closure of the school.
Ms Gordon said: "There needs to be a public enquiry because should know the truth of what happened at the New School.
"The parents and the young people should be reassured that the pressure on the school came from Perth and Kinross Council and the Care Inspectorate."
Mr Mathieson said the atmosphere between school staff and regulators had worsened over the past two years.
"It was palpable within the school. Meetings became more hostile. The information sharing became pressured.
"I think that this has been done on a financial basis. There is an awful lot of talk about getting it right for every child, but when financial pressures come to bear there isn't the money to provide these services."
Perth and Kinross Council say blame is "misguided"
A stetment released by Perth and Kinross Council said: "Our primary focus at all times is to ensure that young people within Perth and Kinross are provided with appropriate support, care and education to meet their needs, whether they attend one of our schools, or receive their support elsewhere.
"The unexpected decision taken by the Board of Governors to close The New School Butterstone with four days notice, rather than tackle the urgent actions identified by independent regulatory bodies and an external company with specialist expertise, placed pupils, parents/carers, and all of the local authorities involved in a very difficult situation.
"We have worked hard since that decision was announced on Monday 19 November to make sure that young people and their families were provided with the information and support they needed to make an abrupt transition to new arrangements.
"While it would have been better for everyone involved to have had more time to respond and plan effectively, we would strongly refute any claim that we have done anything less than our best in the tight timescales available.
"It is entirely misguided to seek to blame Perth and Kinross Council for the decision to close the New School Butterstone as we do not have the authority to make a decision about the operation of an independent school.
"The council have previously indicated they would welcome a public investigation into the circumstances surrounding the school's closure and the serious deficiencies found at the school in relation to child protection and safeguarding.
"We acknowledge the feelings of confusion and disappointment experienced by all affected by the school closure however it is important that the deficiencies identified within the school were significant enough to result in an Improvement Notice served by the Care Inspectorate and Conditions imposed by the Registrar of Independent Schools
"It should not be overlooked that the school's Board of Governors have also stated that in addition to the financial pressures faced by the school, they concluded that they were no longer able to operate the school safely."