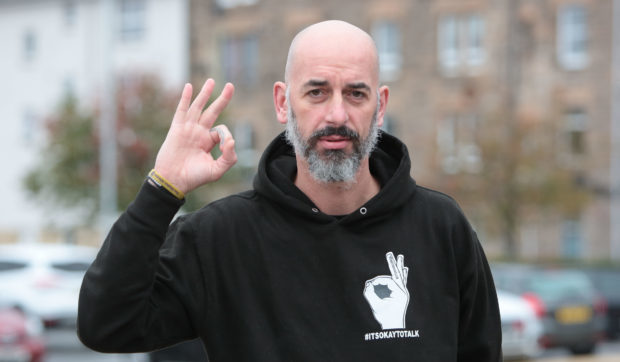 A Perth mental health support group has had almost 11,000 visits this year.
The Fair City branch of Andy's Man Club was only set up in September last year but it has already become one of Scotland's biggest.
The number of people attending the charity's community groups reached 10,908 in 2018, with 1,587 new people at the meetings.
Alex McClintock, who founded the group with friend and fellow HMP Perth physical education instructor Adam Allison, said: "The numbers just prove how bad the problem is here.
"It's great that we have been able to help so many people but at the same time it shows how many people need help."
As well as the community groups, the pair also helped almost 1,000 people through meetings held at Perth prison.
Andy's Man Club was set up two years ago in memory of Andy Roberts, a 23-year-old father of one from Halifax who committed suicide.
Alex, 44, and Adam, 54, initially set up the Fair City branch to provide mental health support to prisoners before realising how great the need was in the community.
"It's humbling to see the guys turning up to something that was a dream two years ago," Alex added. "It's a great reward for all the hard work myself and Adam have put in.
"To see these guys transforming their lives the way they are and then going on to give something back by promoting Andy's Man Club to others is just brilliant."
The pair's efforts have been so successful that they are now directors of Andy's Man Club, helping to set up new branches across Scotland.
"Now that we are directors we have some help running the Perth groups," said Alex.
"One of the guys who is now helping came to us in a really bad way. He came in the deepest, darkest place and he is now helping run the club, that is testament that Andy's Man Club really works."
As Christmas and New Year can be a difficult time for many people, Alex encouraged anyone struggling to seek support from friends, family or charities.
Members of Andy's Man Club will be at Costa, St Catherine's Retail Park, from 2pm on December 30.
Alex said: "My advice would be just to speak to someone.
"Find someone you can talk to and tell them how you're feeling. Our big message is that it's okay to talk and we want everyone to know that. If you don't have anyone to go to there are Samaritans and other organisations too."
Meanwhile, a pocket-sized leaflet with advice and emergency contact numbers has been issued by mental health charity PLUS Perth.
It includes tips to ease anxiety and stress over the festive period, as well as details for a range of charities and support services.
Piles of the cards have been issued to local businesses and a digital copy is available from Plus Perth's website.
Contact numbers are included for the Samaritans, NHS24, a domestic abuse helpline, Alcoholics Anonymous, Citizens Advice and Perth and Kinross Council's emergency homelessness department.
Advice on the leaflet includes sharing concerns with loved ones, avoiding getting into debt, drinking in moderation and keeping busy.
More advice and resources are available on Plus Perth's website www.mentalwealthperthshire.org.uk.