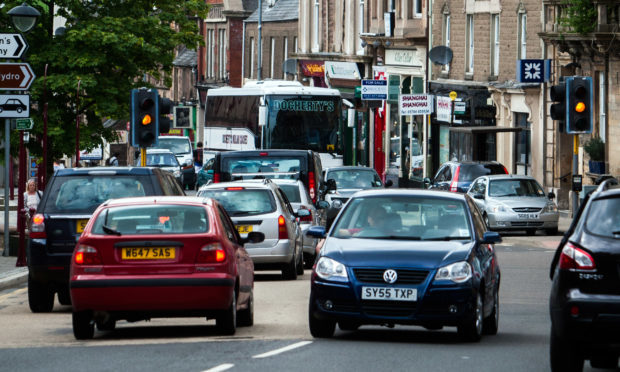 The public is being given the chance to help shape a radical air quality plan which could see motorists fined for letting their engines run at a Tayside pollution hotspot.
Perth and Kinross Council is considering issuing fines to "idling" drivers on Crieff's High Street.
It is part of a package of wide-ranging measures proposed to combat long-standing air pollution problems in the busy town centre.
The Air Quality Action Plan, which was agreed by councillors in September, proposes a study of traffic flow, a parking shake-up and new traffic control system.
Now a series of public consultation events have been arranged to give residents and businesses a say on the project, before the plan is rubber-stamped later in the year.
The exercise runs from January 7 until February 18. There will be an online questionnaire – at pkc.gov.uk/crieffaqap – and drop-in sessions will be held in Strathearn Community Campus on Wednesday, January 9 from 5pm to 7pm, and in Strathearn Art Space on Sunday, January 13 from midday to 3pm.
The plan proposes gating of holding traffic outside the High Street "canyon", as well as limiting or prioritising traffic turning right into the thoroughfare.
Anti-idling enforcement could be introduced, which if approved would be the first of its kind in Scotland.
In her report, council officer Kirsty Steven  suggests: "Perth and Kinross Council will consider the adoption of powers to undertake enforcement through Traffic Regulation Orders to compel drivers to switch off idling engines.
"Fixed penalty notices could be issued to drivers who refuse to co-operate."
Scottish road traffic regulations enable councils to apply to the government to tackle problems with engine fumes running "unnecessarily".
Earlier this year, Inverclyde Council asked the Scottish Government to introduce such measures.
Perth and Kinross Council hopes the action plan will encourage more use of public transport and car sharing, as well as cleaner buses and HGVs.
A spokeswoman said: "The combination of heavy traffic on the A85 and tall buildings on either side of Crieff High Street creates a kind of canyon effect which prevents air pollutants from dispersing."
Elevated concentrations of Nitrogen Dioxide (NO2) and particle matter have been measured in the town centre and, as a result, it was declared an "air quality management area" in 2014.
The spokeswoman added: "The Air Quality Action Plan for Crieff is being developed in response to this, in accordance with Scottish Government policy guidance.
"The plan details a number of short to long-term improvement measures, and it is these measures which they council wants to consult the public on."