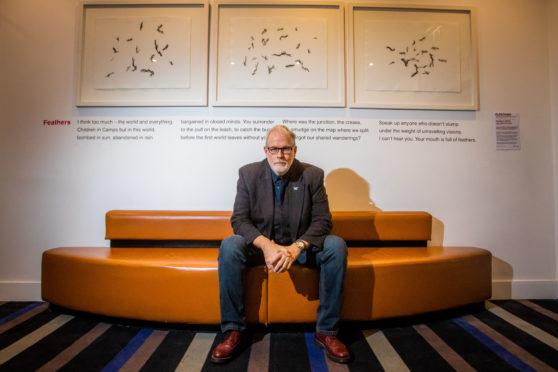 A Perthshire poet is 'fair chuffed' after his words became the centrepiece of a new exhibit at Perth Concert Hall.
Jim Mackintosh has had his work writ large across the walls of the concert hall for his first solo exhibition alongside the images, sculptures and artwork of the Horsecross Arts collection that inspired his writing.
Jim described the Flipstones exhibition in his home city as an 'honour'.
He said: "I'm absolutely fair chuffed.
"It's a brilliant honour. I'm genuinely chuffed to have this exhibition.
"It's a delight to have my Flipstones poetry collaborations feature so prominently in Threshold artspace at Perth Concert Hall, where poets like myself can find the space for inspiration from the work of other artists or collaborate on specific themes.
"The engagement with the audience is always fascinating, whether it's only a glimpse at one or two lines as they pass into the artspace, or a shared moment where the poetry nurtures their own thoughts and memories."
Jim said that much of the poetry in the exhibit comes from his views on global warming and the environment.
He said: "We have this projection that we're the smartest animals on the planet and that one of these days it will all blow up and we'll have nothing left.
"But I think we're quite arrogant and ignorant – that's why we're destroying it  – so where do we get the right to think we're the best thing on this planet?"
Iliyana Nedkova, creative director for contemporary art for Horsecross Arts, said: "I can't be more pleased that through Flipstones we are supporting the home-grown talent at our threshold, alongside the international artists featured in our museum collection – this is one of our key missions at Horsecross across all art forms.
"In this exhibition Perthshire's bard Jim Mackintosh is in fine company with Perth's own Susie Johnson, Ewelina Labuda and Dave Hunt of Silver Alchemy Collective."
Jim has had six collections of poetry published including Flipstones which is shown in the exhibition.
In 2016 Jim became the Poet in Residence for St Johnstone F.C.,  the first professional football club in Scotland to make such an appointment.
Admission is free to Flipstones, which runs in Perth Concert Hall's Threshold artspace until Thursday March 14.
For further information including the exhibition guided tour visit www.horsecross.co.uk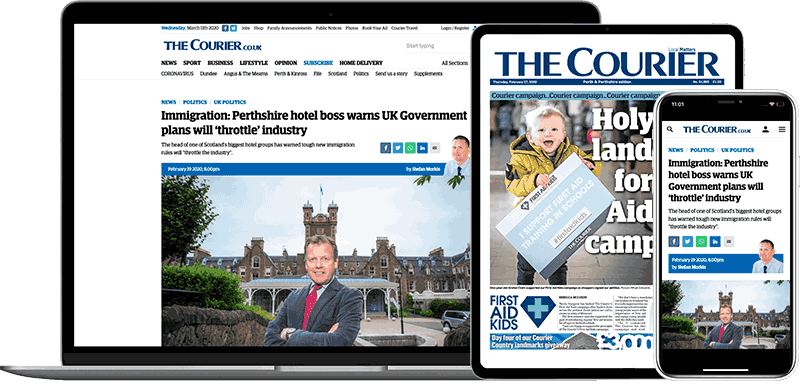 Help support quality local journalism … become a digital subscriber to The Courier
For as little as £5.99 a month you can access all of our content, including Premium articles.
Subscribe