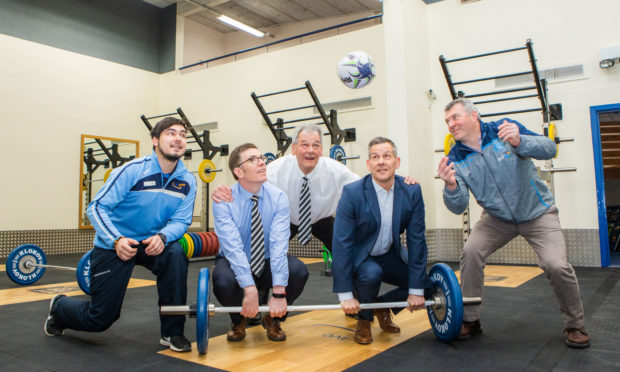 One of Scotland's oldest rugby clubs has taken the wraps off its new state-of-the-art base in Perth.
The £88,000 gym and coach education facility was launched at the city's Bell's Sports Centre on Friday morning as part of a long-standing team-up between Perthshire Rugby Club and Live Active Leisure (LAL).
Nearly half the money – £41,500 – was secured by the club in the final round of Scottish Rugby's Club Sustainability Fund awards in October.
The centre has been kitted with wall-mounted racks, oak lifting platforms and dumbbells, as well as training ropes and medicine balls.
It is the cherry on top of celebrations to mark Perthshire Rugby's 150th anniversary.
Club chief executive Allan Brown said: "Perthshire Rugby is grateful for the support and funding received from Scottish Rugby to realise our ambition for this fantastic strength and conditioning facility.
"We are delighted to have partnered with Live Active Leisure in delivering on that funding promise."
He said players – including boys and girls from the age of 12 – will be able to use the new area to participate in the club's Athlete Development Programme.
Gary Watson, of LAL added: "Our partnership with Perthshire Rugby stretches back to the 1970s, and this project has gone a long way to deepening and strengthening that relationship.
"From securing the initial funding award to the execution of the project, both parties have worked hard to ensure the end result brings real benefit to both the performance athletes at the club, and our wider customer base.
"I'm proud to report that the end result is exemplary in terms of a modern strength and conditioning facility."
The base is at the North Inch, where Perthshire Rugby played its first game, against the Scots Greys, in January 1868.
Football had been outlawed on the park, after a particularly notorious match ended in riots.
The infamous clash happened in 1836, when the lord provost challenged Lord Stormont of Scone Palace to a game of football.
The match went ahead with 50 players on each side and, according to historic records, the ball was kicked, mauled and carried.
The football ban opened the gates for rugby players from universities to educate local students about the new game.