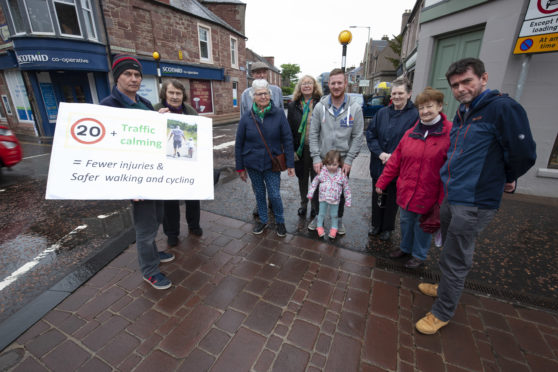 A road safety campaigner has hit out at his local councillors after Coupar Angus was omitted from the 20mph speed limit zones being trialled in Perth and Kinross.
Michael Gallagher believes the Strathmore ward politicians have not done enough to get the Perthshire town included in the trials despite councillors Colin Stewart and Fiona Sarwar backing the campaign earlier this month.
He said Conservative Mr Stewart had "reluctantly" attempted to get the campaign into the spotlight at the environment and infrastructure committee meeting on May 15 but could not get the issue on the agenda, while SNP councillor Fiona Sarwar "sent a couple of emails to council officers", with little effect.
Mr Gallagher said the other two councillors for Strathmore, Lewis Simpson (Liberal Democrat) and Dennis Melloy (Conservative) had shown no interest in the situation.
"Lewis has refused point blank to help, and I haven't had any response at all from Dennis," he said.
"In fact I met Dennis in Scotmid a few months ago and he said he thought 20mph limits would just make things worse by causing road rage.
"Clearly we can't expect any support from him."
Residents have led a campaign for increased road safety in Coupar Angus since the  death of local toddler Harlow Edwards in 2016.
Last year, a survey among the town's  residents revealed 81.7% wanted the town's limit to be lowered from 30 to 20mph.
Councillors Stewart and Sarwar rejected Mr Gallagher's claims and said they they continued to support the the inclusion of Coupar Angus in the 20mph trials.
Mr Stewart said: "I wasn't successful in trying to get Coupar Angus put back on to the agenda at the committee.
"There were a number of concerns raised by officers about going back and changing decisions they had already made. But I spoke to the convener and he's keen to hear ideas of how to take this forward with the prime goal of having Coupar Angus included.
"I'm quietly hopeful that we can get that result."
Ms Sarwar said: "I have been in touch with Keith McNamara, Depute Director for Housing and Environment, a number of times regarding the 20mph trial.
"I still strongly support Coupar Angus having a 20mph limit as well as traffic calming measures that will help enforce this limit.
"I know other towns and villages in my ward also want this and I am looking into other ways I can continue to push for these 20mph zones."
Councillors Melloy and Simpson released a joint statement saying they were "content" to await information from the current trials.
It said: "We have never been supporters of blanket 20mph speed limits on our roads as they can promote driver frustration.
"We are however in favour of 20mph where it can be proved there is a risk of road safety in our built up housing estates and streets."