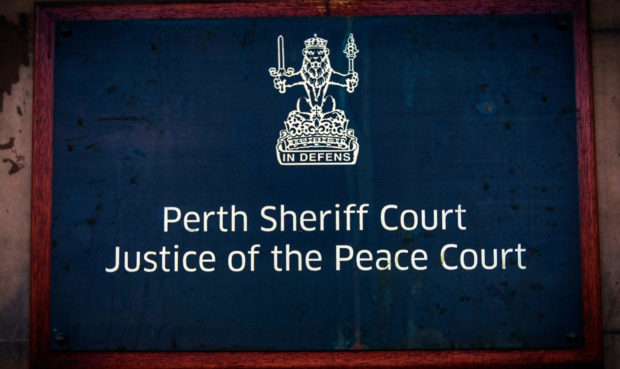 A church treasurer who embezzled more than £34,000 of funds from a Perth church has been warned he faces being sent to prison.
Paul Melloy, 41, spent more than three years stealing money donated by members of the congregation and from charitable trusts and fundraising efforts.
Melloy – who was running a failing financial services business – cooked the church books to hide the money he was regularly paying into his own bank account.
Perth Sheriff Court was told yesterday that Melloy started helping himself to church funds almost immediately after volunteering to become church treasurer but left the position before the discrepancies were discovered.
Sheriff Pino di Emidio said: "It is obviously a very serious matter and the question of a custodial sentence must be high in the court's consideration."
Melloy, Hermitage Drive, Perth, admitted embezzling £34,771 from Craigie and Moncrieffe Parish Church between April 7 2014 and December 1 2017.
Fiscal depute Eilidh Robertson told the court: "He was running a financial services business at the time.
"He voluntarily acted as treasurer for the parish church between 2013 and 31 December 2017. He was a member of the church and a registered accounts technician.
"During that time he had sole access to the banking account for the church and he produced income and expenditure spreadsheets for the finance working group.
"The money was from charitable donations, legacy funds, grants and fundraising events and sales. It should have been spent on the day to day running of the church."
Six months after Melloy left the treasurer's role, another committee member was looking at the accounts when she noticed irregularities in a series of bank statements.
The fiscal depute said: "It was evident he had been under-representing the church income and over-representing expenditure to make payments to his own account.
"These were masked by altered income and expenditure sheets."
Melloy was arrested and admitted to police he had been embezzling money from the church. He said he had fallen on hard times and had taken the money with the intention of repaying it but had never been able to.
"He admitted it had spiralled out of control, prompting him to give up his role as treasurer," Miss Robertson added.
Melloy's family had helped to bail him out by sending a cheque to the church for the full amount he had stolen.
Melloy's solicitor said he is a father-of-two who had no previous convictions and she hoped to persuade the court he did not need to be sent to prison.
Melloy, who is understood to have held positions of trust with a number of other community organisations in Perth, was granted bail and sentence was deferred for reports.