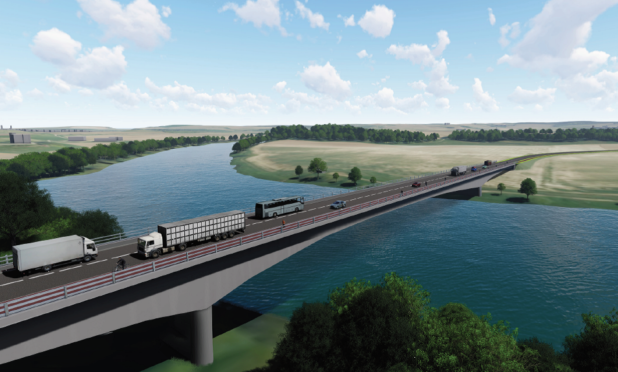 A rebel Tory councillor has said he will break party lines to call for a radical redesign of the £112 million Cross Tay Link Road.
Colin Stewart described the preferred route which will cut through a new housing estate as "stupidity on stilts".
On Wednesday, councillors will be asked to reject alternative designs for the new road which will connect the A9 with the A93 and A94 north of Scone.
The redesign was planned out by council officers after opposition from Scone and District Community Council, who said the road should be moved further north to avoid a new 700-home development.
A report to councillors states redrawing the project at this stage could cause 17 months of delays and cost taxpayers an extra £8 million.
Mr Stewart said he will push for the route to be amended at Wednesday's meeting. "The current proposed route is stupidity on stilts," he said. "I have seen some ridiculous proposals in my two years as a councillor but knowingly building a new arterial road through the heart of a new residential development takes the biscuit.
"I am regularly contacted by residents who want a bypass to stop heavy traffic going past their front door, so to create this situation by design is quite simply beyond belief.
"This simply cannot be allowed to happen, and I will be doing everything I can to change it."
Mr Stewart has further questioned one of the stated long-term benefits of the link road, to improve air quality around Bridgend and the city centre. He said a health assessment for the alternative scheme had not been completed ahead of this week's meeting.
"People are hospitalised and even die from air pollution, particularly from vehicle emissions, yet there has been no assessment of the impact on future residents' health or indeed the costs to public services," he said.
"At a time when some are suggesting nationally that we should all have a legal right to clean air, sticking with the proposed route would be a serious backward step."
The report by roads infrastructure manager Jillian Ferguson and council solicitor Debbie Robertson states that delaying the project would force the local authority to put in place a "low emission zone" in the city centre, with significant traffic restrictions.
Scone community councillors have asked to address the meeting. The group agrees with Mr Stewart that the preferred route would post a significant health risk for people living in Scone North.