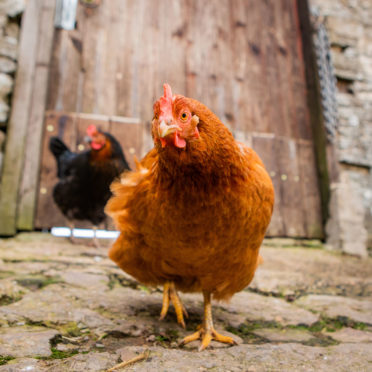 Landowners chased bird-brained youngsters from a farm near Perth on Sunday night after the pair broke into a shed and tried to make off with a chicken.
The duo were attempting to gain access to a locked shed at the settlement on the southern fringe of Luncarty, but scampered when confronted by the householder who gave chase on foot.
The brazen youngsters had managed to sneak into and "ransack" another nearby shed but the duo were not able to hang onto the bizarre bounty they had pilfered.
The only thing taken was a chicken, which was dropped not far from the farm building. The bird was safely retrieved by the owner.
The male culprits were described as being aged between 14 and 16.
One of the boys is thought to have fair hair while the other's was dark and both were wearing tracksuits and ran off in the direction of Luncarty, where they were lost from sight.
A Police Scotland spokesperson said they have no reports of the incident but the local community council has warned householders and occupiers of premises in the area should remember to keep sheds and outbuildings secure.
Luncarty, Moneydie and Redgorton Community Council were contacted after two youths were disturbed in a field at Denmarkfield.
In a Facebook post, the group warned residents to be vigilant and reminded them ground floor house windows should be kept either shut or secured in the latched open position to deter opportunist thieves from gaining access, especially during warmer nights.
Community council chairman George Black explained the Luncarty area usually has very little trouble with thefts or break-ins.
He said: "Luncarty, gladly, seems to fall behind in the statistics for these sort of things. There's always a couple of opportunists and sneak-ins, but it's a good area.
"Youngsters don't get into a lot of trouble. The shop can leave its plants outside overnight and they go untouched. This is a bit different though, trying to take a chicken is quite amazing.
"This is a timely reminder to keep sheds and outbuildings secure."
Strathtay ward councillor Grant Laing has added to the warning.
He said: "This might seem like a harmless prank to the pair who might have been caught up in the high spirits of the school holidays, but it is breaking into someone's property. I'd ask all residents to stay vigilant."