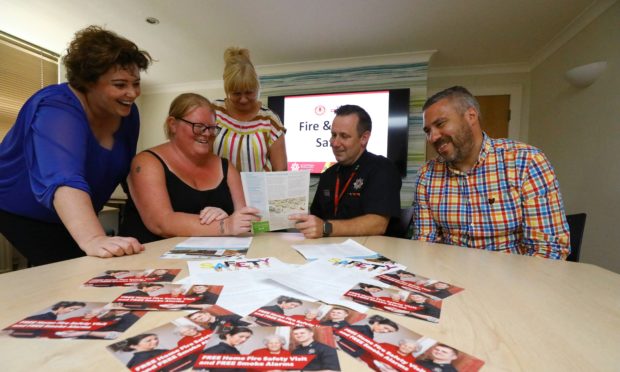 A Perth housing association arranged a fire safety event at their base yesterday in a bid to bounce back from a major blaze which started in one of their properties this summer.
Fourteen people were rushed to hospital when a fire broke out in a ground floor flat in Menzies Court in the early hours of the morning on May 31.
Witnesses reported children jumping from windows to escape the inferno.
The three storey tenement building has now been almost fully restored, and the housing association responsible for the structure is taking steps to promote fire safety.
Responsible for around 350 houses in Perth's Fairfield area, as well as 150 others in Muirton and the city centre, Fairfield Housing Association arranged a fire safety event at their main office on Thursday afternoon.
SFRS officers gave out advice on life-saving skills, escape plans, hazards and risks and offered free home safety visits.
Conscious of impending potential changes to social housing regulation following the Grenfell tragedy in June 2017, the firm are keen to make fire safety a priority.
Corporate manager Susan Bell explained that fires are not a common occurrence in the area, and heaped praise on firefighters for handling the incident so effectively.
She said: "The SFRS team were very proactive after the fire, communicating with local residents and offering them the opportunity to have a home fire safety visit.
"We recognise that fire can cause significant damage to our tenants' homes and at their worst, also cause severe injury. This recent incident provided another opportunity to highlight how our tenants can take steps to prevent fires or to know what to do if one occurs.
"We had an informative training session in June for our staff and are hoping to hold more regular events for both staff and the community to maintain awareness of the danger of fire.
"The fire service approached us with this idea the following week and we were more than happy to do it.
"In terms of the homes that were affected by this recent fire, works have now been carried out to repair any damage and only the ground floor flat where the fire occurred still requires further repairs."
SFRS watch manager for Perth and Kinross Chris Smith said: "After fires like this, we always do what's called a hot strike, where we knock on every door in the area and offer advice."
"Across Scotland, our fire safety advice is that prevention is key. That means smoke alarms tested weekly, unplugging unused electronics and not mixing alcohol and cooking."
"God forbid there is a fire, everyone needs to know what to do to get themselves, their family and their neighbours out safely and in time. We say get out and stay out."