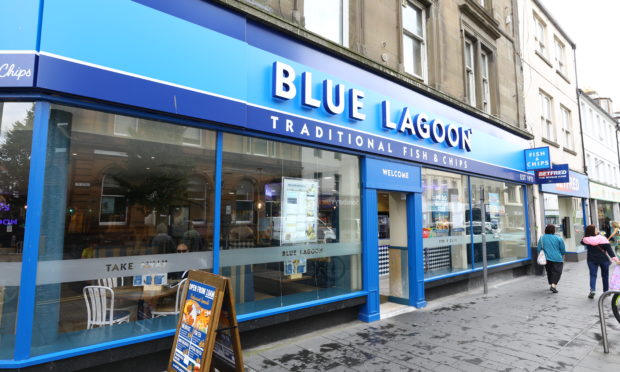 The owner of a new fast food outlet in Perth has warned the council "to start acting like a city" after officers refused an application to extend his  shop's weekend opening hours.
Angelo Varese, owner of Blue Lagoon, had applied to extend the outlet's Friday and Saturday opening hours from 11pm to 1am, claiming he was being forced to turn away customers at the door due to relatively restrictive operating times.
The chip shop owner has spent close to £1 million buying and renovating the shop on High Street since it opened earlier this year in the former Trespass building.
Perth and Kinross Council planning officers have refused the request saying it did not meet with the council's development plan and the noise and kitchen odour would "impact on the residential amenity of surrounding properties".
Mr Varese said: "We're bitterly disappointed by this. All we are asking for is another two hours on Friday and Saturday.
"People are trying to get in and we're closing the door on them at 11pm. Perth is supposed to be a city, they could think about opening shops past 11pm."
Mr Varese, who has been in business for more than 40 years, has Blue Lagoon shops which open in Glasgow until 5am and has recently opened shops in Stirling which open to 3am on a Saturday and 2am on a Thursday and Friday.
He said: "Stirling council were great. Perth council has not been great. It's very backwards from the council.
"I'm not trying to say let's make it like Glasgow but if they want to be a city then act like a city.
"It's very anti-business. They should be doing more to help businesses make the most of things."
Mr Varese argued the Blue Lagoon on High Street is a prime city centre location, close to many pubs which stay open past 11pm.
In their report, planning officials said: "Extending the hours of operation is premature at this point in time.
"It has not been shown that the premises is capable of operation without affecting the residential amenity on neighbouring properties given the limited time it has been in operation and the fact that an appropriate kitchen waste procedure is not in place."
A Perth and Kinross Council spokesperson said: "The council works extensively with businesses to support their economic development.
"On some occasions this has to be balanced with protecting the amenity and wellbeing of neighbouring residents.
"The applicant has the right to seek a review of this decision through the Perth & Kinross Local Review Body."
Mr Varese said he would be seeking to appeal the decision.