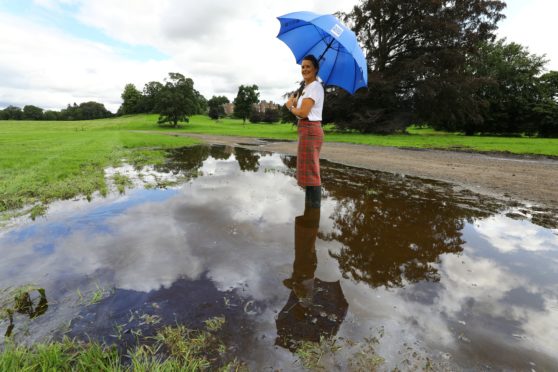 The weather has come close to wiping out major public events being held in Tayside at the weekend.
Perth Highland Games is the highest profile victim of the heavy rain which is forecast.
The games were due to take place at Scone Palace but health and safety concerns have put paid to plans, costing the event around £7,000.
The games moved from the South Inch in Perth last year after 2017's South Inch staging ground was badly rain-affected.
Crieff's Beer and Gin Festival was also called off and Aberfeldy Show has been forced to reschedule its events to protect the grass.
A spokesperson for Perth Highland Games said the committee was forced to take the cancellation decision early to protect the future of the event as a later call off would have cost tens of thousands of pounds more.
The spokesperson said: "If we cancel early we lose around £7,000 or so, on money already spent on advertising, programmes, licences, equipment hire, storage, ticketing and so forth.
"This ensures that there is still money available to stage a games the following year.
"If we cancel closer to the weekend, work will already have started, and with all our contracts and agreements in force, including penalties, we would be talking a loss of a five figure sum, and no chance of any further games being staged."
Met Office issues rain and thunder warnings lasting 54 hours for Dundee, Perthshire, Angus and Fife
A change in date is currently being considered but a change in venue this weekend is not possible due to a lack of suitable alternative arenas and a change in licence would take a minimum of 28 days to be processed.
Heather McArthur, Events Manager at Scone Palace, said: "The organisers of Perth Highland Games have made the decision to cancel this event for health and safety reasons due to the condition of the ground, and the severe weather conditions forecast over the next few days."
VIDEO: Residents rescued by boat as homes are evacuated in Fife flood chaos
Crieff and Strathearn Rugby Club, which organises the beer and gin festival, said it was forced to cancel as their club house is not big enough to hold all attendees if revellers were forced inside.
A spokesperson said: "We wouldn't have enough room in the club house if the weather doesn't hold up. It's a licensing thing.
"We couldn't get everyone inside and it becomes a health and safety issue if we have the same number as last year, which was about 350."
Aberfeldy Show has been forced to move its Friday events to Sunday to protect the grass for tomorrow's highland games.
A spokesperson said: "Following a site meeting, and with last night's rain and Friday's awful forecast, we have taken the decision to move Friday's Horse and Pony classes to Sunday to save the field as much as possible.
"Sadly this means no events at all on Friday."