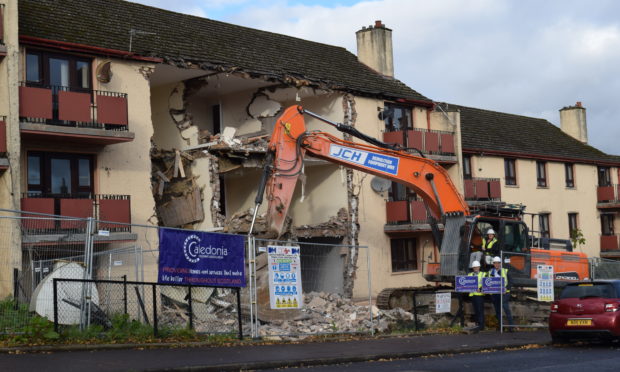 A demolition squad has started work on dozens of abandoned flats in Perth.
The 30 vacant homes in Newhouse Road are being pulled down to make way for new affordable apartments.
It is the final phase of a £4 million regeneration project led by the Caledonia Housing Association (CHA).
Planning permission was secured earlier this month for 13 new homes at the Letham site, including a pair of four-bedroom townhouses, eight three-bedroom houses and three two-bedroom homes, all with their own parking and back gardens.
The work is being carried out by Falkirk-based demolition experts David Morton Ltd.
CHA chief executive Julie Cosgrove said: "The Newhouse Road community have been fantastic in supporting and working with us throughout this project.
"Their feedback on the quality and standard of their homes has been incredible and helped shape the homes we are now building on this site.
"We look forward to pushing forward with this final phase, delivering more affordable family homes in Perth."
Families were moved out about two years ago and the flats were then secured with boarded up windows and doors.
Several preliminary steps were taken before demolition work began, including an assessment of properties and removal of any asbestos.
While the homes were empty, they were used for advance training by local firefighters.
Fire crews were called to the street frequently in recent years, with notable blazes in 2012 and 2016.
The housing association's transformation scheme got under way in August 2015, with a £2.6 million refurbishment of 12 blocks of flats further along the street.
New tenants say the modern properties have meant lower heating costs and reduced noise from neighbours.
A contractor is expected to be appointed for construction before the end of the year, and work is due to start on the new flats in early 2020.
Two years ago, CHA took the wraps off its £5 million redevelopment of the city's old Caledonian Road school.
The group is also linked to plans for the soon-to-be-demolished St Andrew's and St Stephen's Church in Atholl Street.