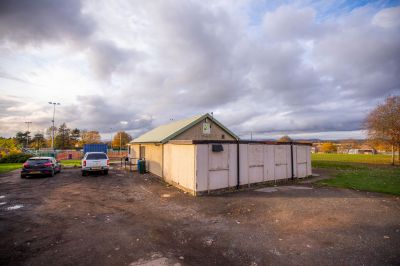 Belongings were stolen from children while they played football in Perth.
Letham FC members called the police after they were made aware of a person "acting suspiciously" while their under 16s and community amateur team were training on Tuesday night.
CCTV footage shows a person entering the Seven Acres Pavilion while the youngsters played on the pitch.
Players were asked to check their belongings and two mobile phones, a set of keys and a wallet containing cash were found to have be missing.
The club then alerted the police of the thefts.
A Police Scotland spokesperson said: "The incident was reported to police around 8.30pm on Tuesday, 5 November and inquiries are ongoing."
The theft has caused anger amongst the players training at the club on Tuesday.
The club's secretary, Jon Kidd said: "Naturally the players were all furious that someone would go through their belongings and steal from them while at their club training.
"The club is somewhere that we strive to ensure our members feel at home and to have this happen here feels extremely invasive.
"We called the police and provided them with details and CCTV."
Perth City North SNP councillor, John Rebbeck, who is also a trustee of the club, called the theft "really disappointing".
"There are around 400 kids who play there every weekend and it is a charitable organisation which is low on funds as it is," he said.
"All they want to do is play football.
"It is not a victimless crime as it kids and volunteers who are affected.
"It is really frustrating and annoying."
But Mr Kidd added that the Letham community has been hugely supportive in the wake of this incident.
He said: "Following a public appeal the thief was identified by the local community and that information passed to the police.
"We are very grateful to the people of Letham for their support and concern about the incident.
"We pride ourselves on being an active part of the Letham community and to see so many people rally round was quite touching."