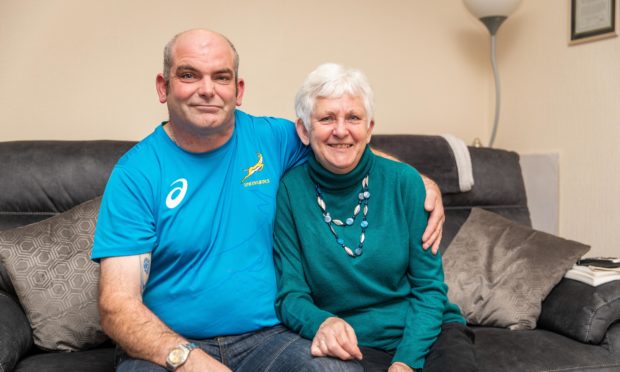 Perthshire mum Evelyn Menzies' life was turned upside down when her teenage son nearly died in a crash on the other side of the world.
Evelyn became a full-time carer for Niall following the accident in 1998 and is now in the running for a national honour from the charity which supported the family through some of their darkest moments.
The 68-year-old from Birnam, near Dunkeld, has been a volunteer and member at her local Headway group for the last 16 years and will find out today if she has won the Stephen McAleese outstanding contribution to Headway award at a ceremony in London.
It marks a remarkable turnaround for Evelyn, who received the phone call every parent dreads while Niall, then 19, was on a six-month break in South Africa.
The former Breadalbane Academy pupil was a passenger in a car that careered off a busy Cape Town road and crashed onto rocks.
He was taken to Groote Schuur Hospital, where he was treated for serious head injuries and was in a coma for 13 weeks while Evelyn and dad Duncan kept a vigil at his bedside.
After he got back home to Birnam, he had to re-learn all of life' most basic skills, including walking and talking, with the help of his parents.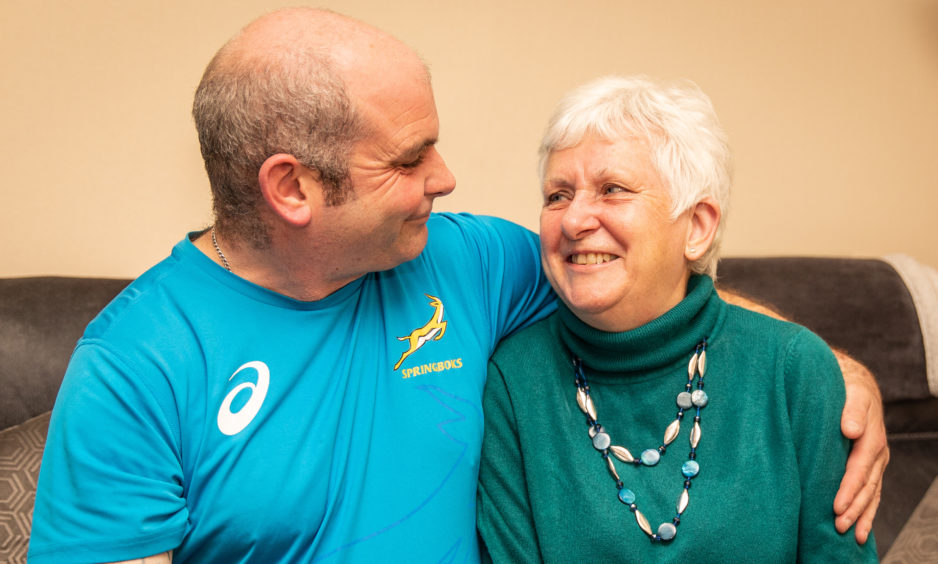 Evelyn, who chairs her local Headway group, said she burst into tears when she found out she had been shortlisted for the award.
"Niall didn't even know how to swallow when he came out of his coma so the road back to some form of independent life was very long," she said.
"It was a very dark time, and as a family we were all very badly affected.
"Finding Headway was a lifeline for me and my family. We were able to not only get support, but also provide advice to other people going through what we did.
"It was a wonderful feeling to realise there were people who understood, who could lend a hand and listen."
She has now been part of Headway for 16 years, and has helped create new services which support people coming to terms with the effects of brain injury.
Eveyln has also represented the charity at national events, and has spoken about her work in the Scottish Parliament.
She was nominated by Joyce Cattanach, of Headway East Lothian, who said: "Evelyn's passion to support Headway and those affected by brain injury is endless, so I'm delighted that she has been shortlisted.
"Despite caring for her own son and the pressure that brings, she has become a great friend to many of the services' users and a great ambassador for Headway in both her local area and nationally."
The community of Birnam and Dunkeld also rallied round to support Niall after his crash, raising money to help pay for travel costs, as well as vital modifications at his home.
Workmates at the Birnam House Hotel also recorded messages for Niall on a cassette and posted it to his hospital in South Africa, hoping their voices would help draw him out of his coma.