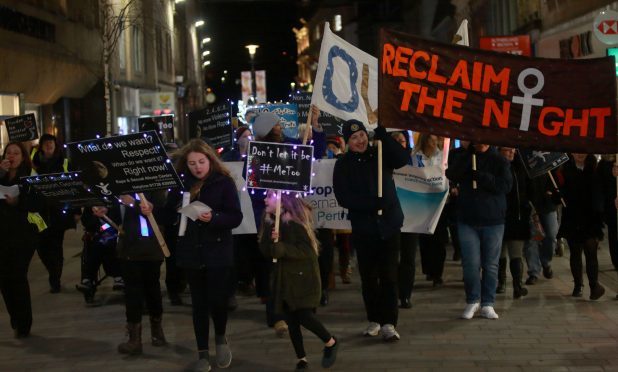 A campaign demanding a safer world for women has been launched in Perth.
Deputy First Minister John Swinney unveiled a packed programme of talks, seminars and films for the Perth and Kinross Violence Against Women Partnership's 16 Days of Activism.
One of the highlights will be an after dark demonstration on the streets of the Fair City.
The Reclaim the Night march on December 5 aims to show solidarity to women across the world, and is inspired by similar processions held during the Yorkshire Ripper's reign of terror in the 1970s, when women were told not to go out after the sun had gone down.
The campaign is backed by, among others, Women's Aid, Rape and Sexual Abuse Centre (RASAC) Perth and Kinross and Perth Action of Churches Together.
Roddy Ross, of Perth and Kinross Council's Safer Communities Team, said: "The 16 Days of Activism is a global campaign that has been running since the 1990s. We brought it to Perth and Kinross a few years ago, and it really has taken off.
"We get increased interest from local groups and organisations every year.
"It's a very powerful message and people want to know how they can support it."
The line-up for this year's campaign includes a talk by criminologist Dr Graham Hill, an academic with unique practical experience of working with abusive men.
As a senior detetecive, he set up the Child and Exploitation and Protection Command.
His talk at the Joan Knight Studio, Perth Theatre, on December 5, will explore what drives men who exercise coercive control over women.
The line-up, which also features showings of feminist classic Thelma and Louise in Perth and Aberfeldy, was revealed at the campaign launch in Merlin House, Perth, on Friday.
Mr Swinney, SNP MSP for Perthshire North, said: "I am pleased that so many local organisations have united behind this message, and chosen to pool their resources to tackle this issue head on.
"It is my hope that the events over the next 16 days will raise awareness of the support available to those either suffering or at risk of suffering from violence, whilst also sending a clear message that such acts are wholly inexcusable."
He said: "The Scottish Government shares the vision and priorities of the Perth and Kinross Violence Against Women Partnership.
"That is why we passed the ground-breaking Domestic Abuse Act, which has strengthened the abilities of law enforcement to deal with abuse, and broadened the definition of abuse to take account of the full breadth of violent, threatening, intimidating and controlling behaviour being displayed by an individual."