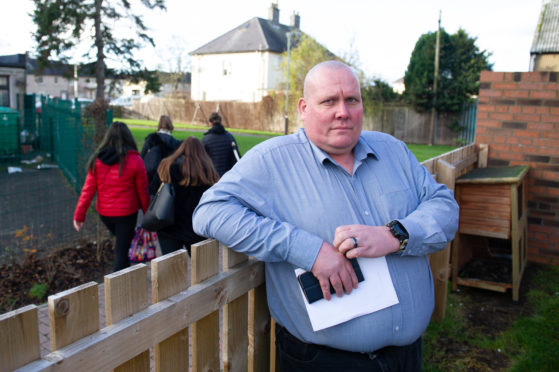 A Perth man claims he is being forced out of the city by unruly youngsters.
Tom Davidson, who stays in the Muirton area, has reported Perth Grammar School pupils to police for littering and abuse.
The grassy area across from his house is regularly strewn with the pupils' rubbish, he said.
And he has blamed youngsters for cracking his car window by firing 5p coins at it.
"We pick up the litter every day," said Mr Davidson. "We have spoken to the school and the police and nothing gets done.
"When we have confronted the kids about it, they swear at me or tell me to 'deal with it'."
The father-of-two said discarded food also attracts scavenging birds to the area.
"The school is not taking it seriously and the kids don't care," he said.
Mr Davidson said he and his family now want to move back to Blairgowrie, where they previously lived, and he has raised the issue with Caledonia Housing Association.
Perth Grammar School said respect for others is stressed to its pupils.
A spokesperson said: "The importance of appropriate and positive behaviour when out in the community and respect for others and the environment is stressed to pupils regularly.
"We are sorry to hear about the situation being described and would ask anyone with concerns about young people's behaviour to raise them directly with the school so these can be resolved appropriately and in conjunction with parents and carers."
In response to the issues facing Mr Davidson and his family, Police Scotland said they are aware of the situation.
A Police Scotland spokesperson said: "Police are aware of instances of anti-social behaviour in the Muirton area and community officers continue to work with staff at Perth Grammar School to reduce the number of incidents of such behaviour.
"Any local resident with concerns should contact the school as well as local community officers to report instances of this type of behaviour in the area."
A spokesperson for Caledonia Housing Association added: "We are aware that school children use this public footpath during lunchtimes and that there is an ongoing litter issue.
"Our neighbourhood officer has been in contact with the school and the council to discuss possible solutions.
"We have also arranged for our estates team to include this newer area if the development in their regular litter picking patrol."