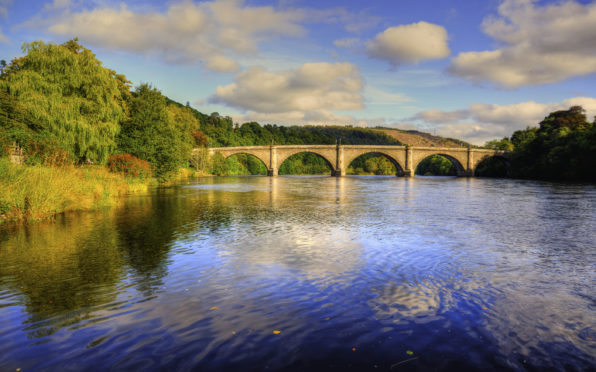 A man has been released without charge following an early morning incident on a Perthshire bridge that left a woman in hospital.
Police said they were still investigating the December 3 assault at Dunkeld Bridge after officers freed a 43-year-old man who had been arrested in connection with the inquiry.
The woman was discovered by a member of the public at around 1.30am before she was taken to Ninewells Hospital with what were described as non-life-threatening injuries.
Officers spent 13 hours at the scene last Tuesday following the discovery.
Police originally said they were unsure how long the woman had lain at the side of the road and they had still not been able to speak to her 48 hours after she was found.
A spokesperson for the force confirmed a 43-year-old suspect had been arrested last week  but on Tuesday, seven days after the woman was found, it emerged he had been let go without charge.
A Police Scotland spokesperson said: "An investigative report has been submitted to the Procurator Fiscal and inquiries are ongoing."
After the woman was found, witnesses described a large police presence at the scene throughout the morning and afternoon.
The Scottish Ambulance Service was also called to the scene, dispatching one ambulance, a trauma team and a manger to the incident before transporting the patient to Ninewells.
One onlooker said the bridge was still partially sealed off when they went to work at 9.45am, more than eight hours after the woman was first discovered.
They said: "It did look serious when we drove past in the work van. There was a lot of police activity on the bridge.
"Police were in a normal car when I went past at 9.45am, then on the way home from work on the way back out of Dunkeld about 2.30pm there was incident response and more police cars there."