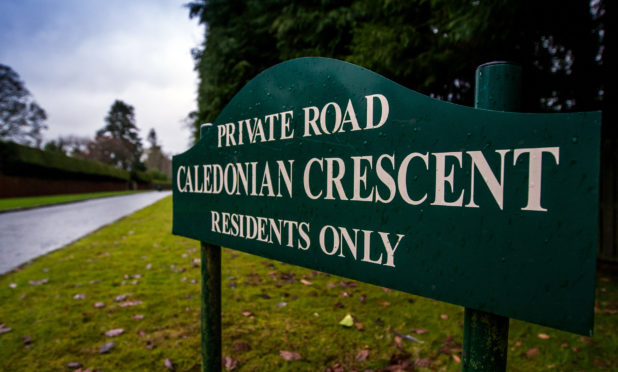 A former dairy tycoon's bid for new homes at an exclusive Perthshire street dubbed Millionaires' Row could have a "detrimental impact" on the Gleneagles Hotel, bosses have claimed.
Businessman Gavin Wiseman wants to build a pair of properties at his woodland estate on Caledonian Crescent, Auchterarder.
Mr Wiseman, who resigned as a director of family dairy firm Robert Wiseman and Sons in 2012, believes the new homes can be built without damaging the look of the area or spoiling the local environment.
However, the proposals could be thrown out after criticism from the neighbouring Gleneagles Hotel.
An agent for the five-star establishment told planning chiefs the development would break with the character of Caledonian Crescent, which features a number of large houses in generously-sized plots.
The average house price is about £1.6 million.
"The proposals would result in the loss of significant numbers of trees which will have a direct detrimental impact on and erode the integrity of the designated Gleneagles Hotel and golf courses," the agent said.
"It is our client's position that the landscape setting of the Gleneagles Hotel should not be compromised by residential development pressures."
Hotel bosses also believe the project will lead to "substantial" tree loss, impacting on an ancient woodland.
Scottish Forestry has not objected to the plan. Woodland officer Jean Joslyn said: "We have reviewed the tree survey and ecological appraisal and note that the scale of removal proposed for this development is small.
"We were unable to find a note of the exact number of trees requiring to be felled, but note that the full plot is 0.321ha and tree removal proposed appears to be around 0.1ha."
The Scottish Government agency has asked for a tree protection plan and compensatory planning to make up for any losses.
The Gleneagles Hotel is one of six objectors to Mr Wiseman's plan.
In paperwork lodged with the local authority, a spokesman for Mr Wiseman said: "The proposals for two house plots on the edge of the Gleneagles settlement – on land previously identified as being within the settlement – with no adverse impact on the visual amenity or environmental quality of the local area likely to accrue as a result, is fully supported by national planning policy as a form of sustainable development."
Planners are expected to rule on the proposals in the new year.