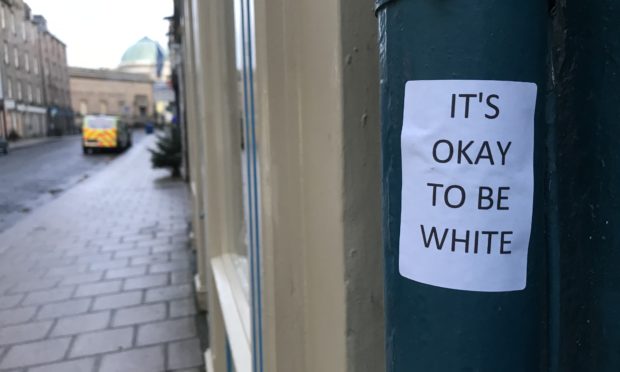 Anti-racism campaigners have lashed out at the anonymous individuals behind a raft of neo-Nazi stickers which were pasted around Perth city centre over the weekend.
Dozens of stickers reading "It's okay to be white" in block capitals appeared on streetlights and drainpipes around the city centre.
The slogan rose to notoriety after being used by white supremacists on internet message boards and social media and was later posted around college campuses in the USA by far-right protesters.
Stickers bearing the phrase were plastered along Leonard Street and Tay Street, as well as independent shopping hub George Street, with many social media users calling on residents to tear them down.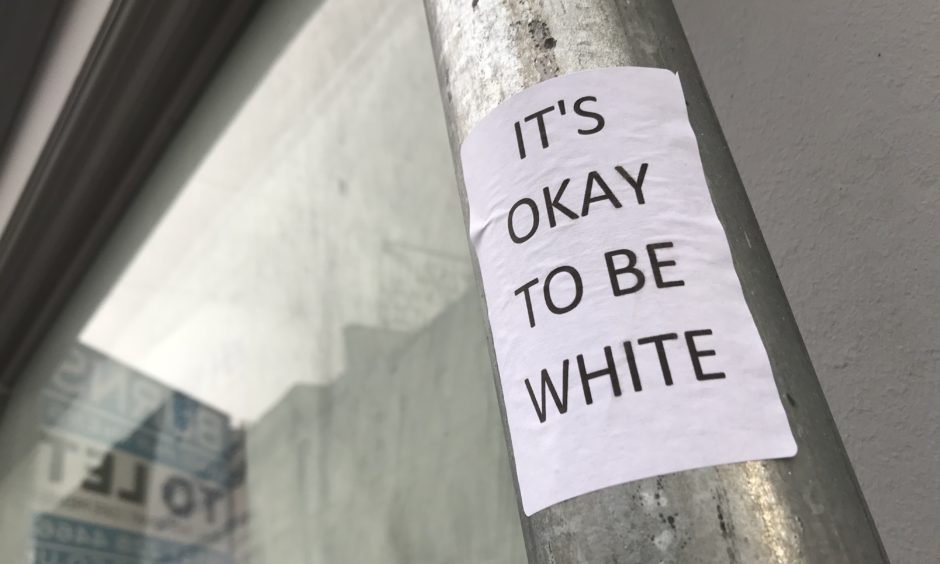 Police officers removed the sticker on George Street upon request, and officers confirmed they are investigating the spate of what is being interpreted by some as hate speech.
A spokesperson said: "Although no complaint has been made to police regarding these posters, they have been brought to our attention and officers are currently looking into the matter."
The culprits behind the messages, who have not identified themselves, have been blasted by local campaign group Perth Against Racism.
The group say they have already been contacted by people of colour who live in Perth, who say the stickers have made them feel "sickened," "disgusted" and "unsafe" by the "terrifying attitudes" expressed in a time of heightened racial tension.
A spokesperson for the group said: "We would like whoever was behind this to come forward and explain what their motivation is, if not white pride.
"This is worrying, we find it disturbing and we've contacted the police. They have been very clever not to use any racial slurs, but the connotation is there.
"We reject division in Perth and believe the people who hold these views are the minority. We stand by anyone who feels uncomfortable or unsafe after reading these and would urge them to contact us on Facebook if they'd like to speak."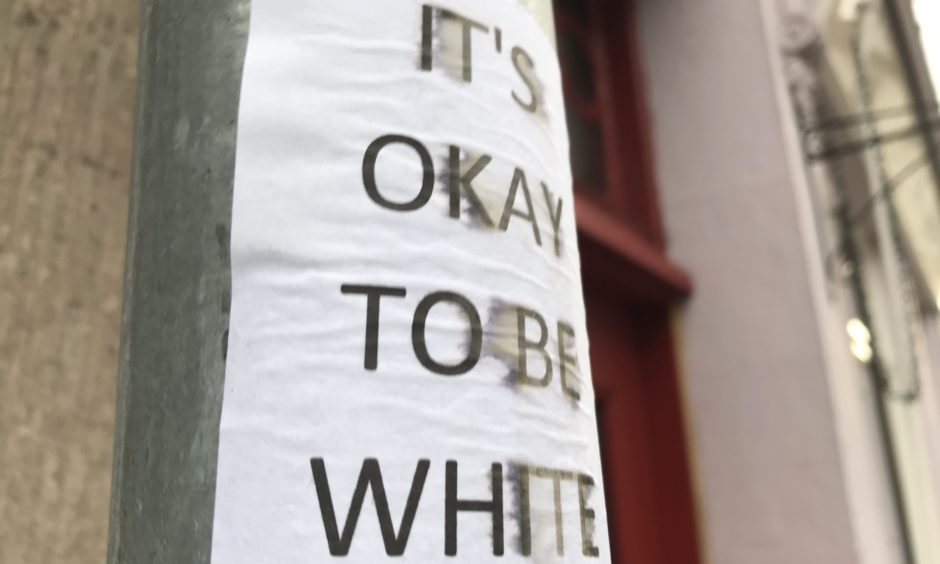 The "It's okay to be white" sloganeering was controversially defended by Fox News pundit Tucker Carlson on television in 2017.
Designed to spark provocation by spreading white supremacy messages, while not directly attacking other races through the use of slurs, the motto has been used by Ku Klux Klan leaders and white nationalist musicians.
Perth City Centre councillor Peter Barrett said: "This is despicable hate speech. It is covert racism disguising white supremacist views. People should be in no doubt this is no innocuous joke.
"It is the thin end of the wedge and an attempt by racists to get their foot in the door. I don't want a white supremacist racist campaign to be imported from the US on to the streets of Perth.
"This is a vile attempt to sow division and create fear in our city. Perth has made real progress in demonstrating that people of all colours, nationalities and ethnicities are welcome."