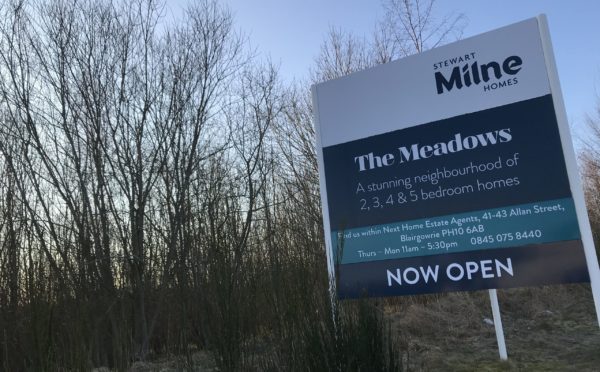 Construction firm Stewart Milne has abandoned contentious plans for a major expansion of Perthshire's biggest town.
The Aberdeen-based developer scored planning permission in 2018 for 117 homes on the edge of Blairgowrie.
The project proved controversial, with more than 500 people petitioning against it. Locals raised concerns about the impact on local amenities such as GP services, and there were also worries about road safety.
Now bosses at Stewart Milne have decided not to go ahead with the scheme, following a review.
A spokeswoman said: "We've had this site on option for a number of years, finally securing planning consent in 2018.
"However, during this time our overall strategy has shifted to take account of market conditions and our renewed focus on delivering family homes in specific city region locations across Scotland."
She said: "While this site does present an attractive opportunity, it no longer fits with our portfolio and we will be concentrating on identifying and bringing forward other opportunities in the Perth and Dundee areas."
The site is near Blairgowrie Community Campus and residents say the area becomes clogged with traffic during school drop-off and pick-up times.
Mum-of-two Tracy Douglas, who lives locally, said: "I think a lot of people around here are very relieved this isn't going ahead.
"Traffic can be a bit of a nightmare and I'd dread to think how much worse it would get with 100 new houses."
Objectors claimed the development of 117 homes between Maple Place and Piggy Lane, combined with 71 affordable houses recently built at Blackthorn Place, would result in "massive over-development".
Blairgowrie and Rattray Community Council commented at the time: "This development will allow another 'through route' through this part of town, from the A93 to Coupar Angus Road."
Glencarse-based firm GS Brown also lodged a letter of opposition, calling for the plan to be halted or rejected.
Chairman Geoff Brown claimed the development should not go ahead unless it met a specific planning condition – namely, that a link between Hazelwood Road and Berrydale Road is included in the plan.