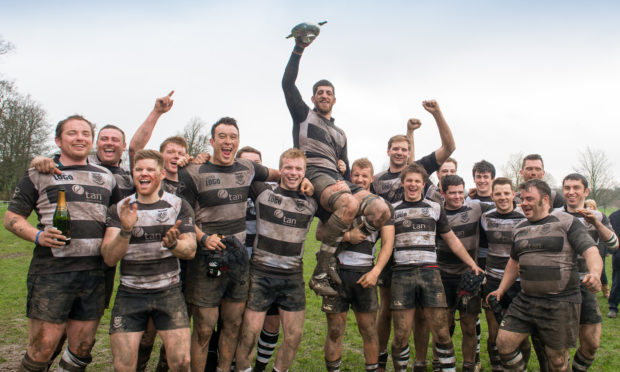 The teammates of Perthshire rugby star Adam Pattinson won a special victory in his honour in their first game since his tragic death.
Adam, who had captained the Eagles, was killed in a road collision on the A912, on the Perthshire/ Fife border, as he cycled to work at Craigclowan School in Perth.
Tributes to the popular teacher poured in and continued on Saturday when the club held a special ceremony before their match against Murrayfield Wanderers.
Perthshire players lined up with match officials and Murrayfield players, along with the Eagles' second XV and their opponents Bannockburn, for a minute's silence before kick off.
Club chief executive Allan Brown and captain Ewan MacKessack-Leitch then presented Adam's match jersey to his family.
A Perthshire RFC spokesperson said: "Perthshire's first home match following the tragic death of Adam Pattinson was always going to be a hugely emotional event but nobody was really prepared for the enormity of the occasion.
"The sight of Perthshire's 1st and 2nd XV lined up with Murrayfield Wanderers, Bannockburn and the match officials for the minute's silence brought tears to the eyes of the large number of supporters on the touchline.
"The number 4 jersey which Adam wore with such pride and distinction for more than 15 years was presented to the family by Allan Brown and Ewan MacKessack-Leitch in a very touching ceremony and Murrayfield's captain Alex Godsmark made a very generous gesture on behalf of our opponents by agreeing to frame the jersey in a presentation case."
The match itself was expected to be a tight affair but Perthshire rose to the occasion to record a storming 30-17 win, pulling the club further away from the bottom of the league.
"Adam's kindness, personality, leadership and the genuine love and respect he showed to everyone he met personified why he was held in such awe by all his friends at Perthshire and beyond," the spokesperson continued.
"There was huge pressure on Perthshire's players who were hurting just as much as anyone else at the loss of their friend and teammate and they responded to the occasion by making themselves available in numbers unprecedented this season.
"The atmosphere around the North Inch was highly charged and the large turnout was a testament to the standing and respect everyone there had for Adam.
"Every single member of the squad played their heart out for their former skipper."
Following investigations into the collision, Adam was officially named by police on Monday.
Sergeant Alan Pettigrew, of Perth Road Policing Unit, said: "Our thoughts remain with Mr Pattinson's family at this sad time.
"His family stated that he was a well-liked and respected individual within the local community and this incident has come as a shock to their whole family."