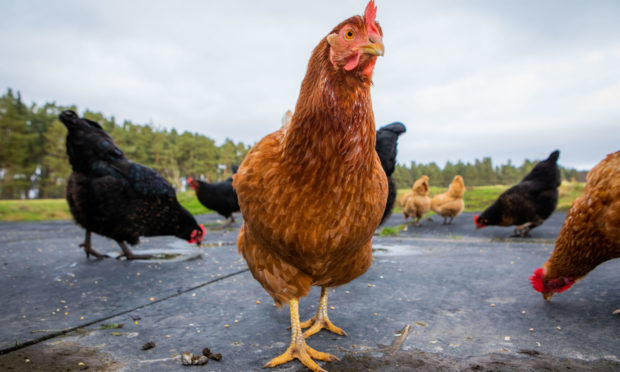 A poultry giant has unveiled plans for a Perthshire farm which could house as many as 26,000 birds.
A letter was sent out to residents in Murthly, notifying them of Aviagen Ltd's plans for a major farm development.
Aviagen, which began commercial life over half a century ago at a base near Ingliston in Midlothian, have put forward blueprints for a major chicken farm which Perth and Kinross Council's planning department are to run the rule over.
The firm hope to build their compound 250m south west of the Douglasfield telecommunications mast south west of the Tayside village.
The land, which is currently used as an agricultural field, would be used to build four sheds to house the birds, along with a site manager's house and associated works.
Developers say the site would be designed to accommodate 26,000 birds, split 6,500 birds in each shed.
Aviagen also say the farm would be screened from the village by existing woodland.
Environmental impact assessments are due to be carried out before any decision is confirmed.
Due to the scale of the proposals, a public consultation must be carried out to enable local residents to quiz the project management team.
This has been pencilled in for next month, however organisers say this may be pushed back in order to adhere to public health advice.
The letter read: "In order to provide an opportunity for the public to discuss the proposals in more detail, a public exhibition will take place on April 16 between 11am and 6pm at Murthly Village Hall.
"Due to Covid-19, public health advice will be followed and if necessary an alternative to a public event or different date may be proposed.
"This will be promoted to the relevant parties to minimise risk and allow public engagement with this proposal to continue.
"It is hoped that if interested you can attend the exhibition, but should you require any additional information or wish to make comment on the proposals, do not hesitate to contact the undersigned [environment team]."
Comments on Murthly Village's social media page raised early concerns about odour and it is understood that some residents have already contacted the consultancy firm representing Aviagen with concerns.
The deadline for submitting comments is June 8, after which Perth and Kinross Council's planning and development management committee are expected to have the final say.
Ward councillor Grant Laing said: "We will be happy to discuss the merits and demerits of planning applications but this is not the time.
"The focus is on doing what needs to be done to stay safe at the moment."