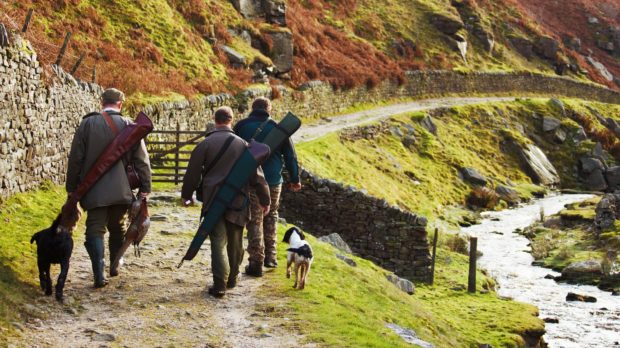 A Perthshire-based shooting association has criticised the "significant and unacceptable" lack of Scottish government support for field sports during the COVID-19 pandemic.
The British Association for Shooting and Conservation (BASC), based in Trochry near Dunkeld, has expressed concern over what it describes as a lack of support for sporting businesses.
Ross Ewing of the BASC said: "BASC is extremely concerned about the lack of support for sporting businesses in the current climate.
"Despite the widespread cancellation of bookings for the buck stalking season and the forthcoming stag stalking and game shooting seasons, the Scottish Government appear to have made a number of significant oversights with regards to support provisions for sporting businesses.
"Together, these oversights constitute a significant and unacceptable lack of support from the Scottish Government, which is particularly damaging given that sporting businesses are often the backbone of Scotland's rural economy."
The issue also has a knock-on effect for other businesses in the area.
Mr Ewing said: "The implications of the coronavirus for sporting businesses are indiscriminate and wide ranging.
"The knock-on implications are also profound. Many other rural businesses, including hotels, restaurants, pubs, gunsmiths, butchers and game dealers, rely on the clientele brought to Scotland by shooting businesses."
Scottish Conservative MSPs Liz Smith and Murdo Fraser, of the Mid Scotland and Fife region, have expressed their concerns.
Ms Smith said: "I understand that the British Shooting and Conservation Association (BASC) are very concerned about this situation, and rightly so.
"Field sports contribute a great deal to Perthshire's economy, so it is very unfair to penalise them in this way."
Mr Fraser added: "I am aware that some field sports' businesses have contacted the Scottish Government about this but they have not been given a satisfactory reason as to why they are being excluded from these vital grants."
The Scottish Government said, while it is working to support businesses, not all organisations are eligible for financial assistance.
A spokesperson said: "The Scottish Government is going to great lengths to support businesses and have offered a package of support worth £2.2 billion for businesses.
"Eligibility to the grant scheme is linked to the non-domestic rates system and, while reaching out to a wide range of business, unfortunately some non-domestic property classifications are ineligible – including shooting businesses and deer parks.
"We continue to explore how best to support businesses during this unprecedented economic challenge and recently launched a helpline to provide businesses across Scotland with advice and guidance on COVID-19."