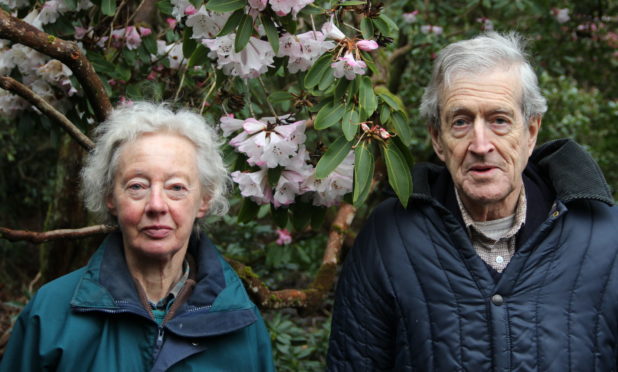 The co-founder and owner of a well-known Tayside gardening business has died.
Tricia Cox opened the Glendoick Garden Centre – one of the first of its kind in Scotland – with husband Peter in the early 1970s.
Born in Cork, Ireland, in 1933, Tricia (née Sherrard) was educated in Ireland and England, studying horticulture and running an apple orchard in Douglas, Cork.
Her uncle, Professor Geo Sherrard was a respected figure in Irish horticulture and the family home at Maryborough House had a collection of rhododendrons, which brought Tricia to Glendoick in the early 1960s in search of plants and advice.
There, she met here husband-to-be Peter Cox, who ran the Glendoick nursery with his father Euan.
Tricia married Peter and made the move to Scotland in 1963. Son Kenneth was born a year later, followed by Raymond in 1966.
In the early 1970s, Peter and Tricia began to research the idea of opening one of Scotland's first gardening centres, and in 1973 the Glendoick Garden Centre opened as a small shop.
The business expanded over the decades. Tricia ran the garden centre for 20 years, alongside a career advising and designing gardens all over the east side of Scotland.
Tricia was a founder member of the Leisuregrow Garden Centre buying group and later became its chairperson.
She joined Peter on several plant hunting expeditions to India (1965), China (1990), Chile (1996) and India (2004).
Taking semi-retirement in the late 1980s, and handing the reins to son Kenneth, Tricia carried on designing gardens including the popular Pagoda Garden at the Glendoick centre.
Tricia is survived by her husband, brothers Ken and Anthony, her sons and five grandchildren.