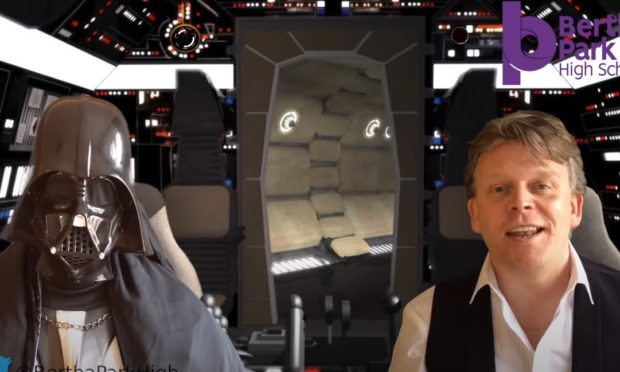 A Perth secondary school has shared as special sci-fi assembly in honour of Star Wars Day.
Bertha Park High School headteacher Stuart Clyde makes his presentation to pupils from the cockpit of the Millennium Falcon.
He made the clip with footage from the films, and downloadable content from the Star Wars website.
The video shows dancing stormtroopers in the school's assembly hall, and massive At-At walkers patrolling the playground.
Mr Clyde, a huge fan of the Star Wars series, said he wanted to keep pupils' spirits up with the video, released on Monday as part of May the Fourth celebrations.
It starts with a traditional Star Wars scroll- accompanied by John William's stirring theme tune – that reads: "It's a dark time in the galaxy: the threat from the imperial virus is high, but a small band of rebels from Bertha Park are doing what they can to keep people learning and pass on advice that might just keep them safe."