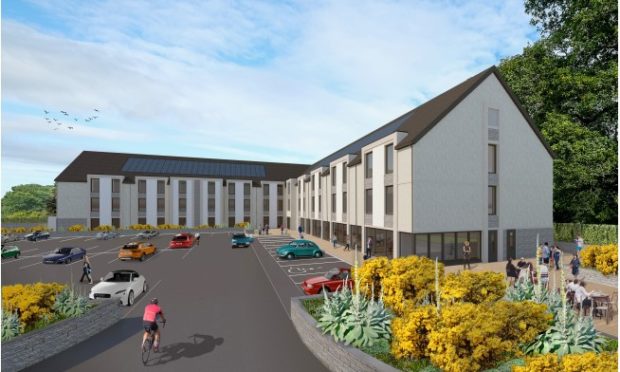 A new Premier Inn planned for a Highland Perthshire tourist haven could hinder the area's economic recovery, objectors have claimed.
The £10 million hotel is earmarked for land on the outskirts of Pitlochry. Developers say it will create scores of jobs and bring a £1.6 million boost to the local economy.
The project is facing a backlash from businesses, residents and even tourists.
Planners at Perth and Kinross Council are sifting through more than 80 objections to the development, with many claiming it will change the character of the town and take away a greenfield site that is used for piping and cycling events.
There are also fears the new budget hotel would have a severe impact on existing businesses as they try to get back on their feet after lockdown.
In its letter, the Pitlochry and Moulin Community Council makes the point: "We recognise that economic competition is not a valid planning issue but note that many local people are concerned over the impact this will have given the effects of Covid-19 on the tourist industry locally."
The group goes on to describe the proposed design as "completely unacceptable".
Agents for the town's Atholl Palace Hotel have also lodged an objection.
"My client believes that the best economic future for Pitlochry is not in low amenity budget hotels, but with quality volume tourism," a spokesman said.
"Whilst my client understands the need to increase the room stock of the town, they consider the best way to achieve this would be to encourage existing hotels and bed and breakfast establishments to grow organically, rather than diluting the existing market which would endanger tourism."
The Pitlochry Estate and Dundarch trusts have also lodged objections.
In his email, Dr Trevor Blackall, of Dalshian Chalets, states: "The economic impact of the Covid-19 pandemic on Pitlochry and Highland Perthshire is yet to be ascertained.
"Therefore the role this new hotel would play in the post-Covid regeneration of Pitlochry, either positive or negative, cannot be determined at this time."
He has called on planners to extend the scrutiny process, which he says has been compromised by lockdown.
Premier Inn has defended its plan. Acquisitions manager Nick Johnston told The Courier: "We received a very positive response from the community when we exhibited our plans in November last year and I'm pleased the planning application is progressing towards committee."
He said: "Premier Inn hotels in market towns like Pitlochry do very well. They attract business and leisure guests throughout the year, and as Premier Inn offers a light touch style of hotel accommodation, we find that many of our guests eat and drink out when they stay with us, supporting established businesses and contributing to the local economy."
Mr Johnstone said around 35 jobs will be created, with a recruitment drive in the local area. "We're confident the new hotel would be a positive addition to Pitlochry and I hope the council gets behind the long- term benefits our investment will bring."