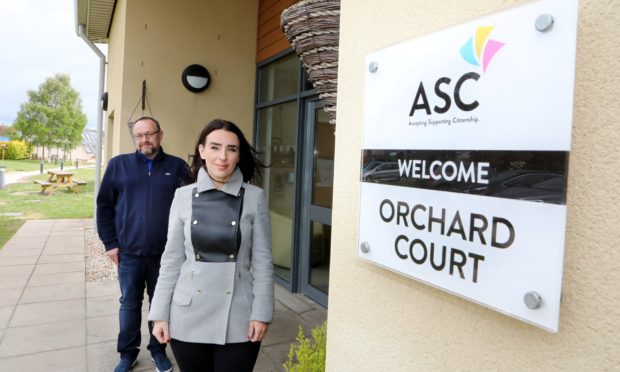 A number of former Michelin factory workers in Dundee have been employed at a Perthshire care facility in a community partnership between the organisations.
Balhousie Care Group's specialist care unit, ASC Orchard Court in Balbeggie, has recruited staff from the Michelin factory which ceased tyre production in March.
The care group inducted the first six of its new hires last week. after first approaching Michelin last year knowing that the factory was set to close.
Among them is Donna Feeney, a former quality control inspector who used to be a social care officer in Dundee.
She joins ASC as a support worker will have an Open University course in social care paid for by Michelin.
Donna, 40, said: "I'm excited to train in social care and start something new. I'm really happy with the outcome.
"Balhousie Care Group were stationed on-site at our plant for a few days and spoke to workers about their job opportunities.
"Michelin really looked after us, telling us about jobs, training us and giving us good redundancy packages.
"They couldn't have done any better."
Close to 600 former Michelin Dundee workers have found new jobs
Scott Parker spent 25 years at Michelin – first on the production line and latterly as an administrator – but now believes his future is in care.
He said: "My wife is a social worker and I had always thought about going down the care route but I was dragging my heels.
"I've been volunteering for Breakthrough, a Dundee-based mentoring organisation for children who have faced challenges."
With Michelin's outplacement package, Scott, 49, has trained in autism awareness and sign language and will join the Balbeggie facility as a support worker at the end of June.
Jill Kerr, group chief executive officer at Balhousie,, said: "Community is at the heart of Balhousie Care Group, whether that's creating a home for our residents and service users or developing close links with local organisations and businesses.
"I think that's at the root of this successful partnership with Michelin.
"We are always looking for committed, talented staff to join our facilities and we found that in the former Michelin staff, so it's a win for everyone."
Robin Wallace, operations manager for specialist services, added: "Our ASC staff are a committed group who are helping service users live as full a life as possible.
"With that comes great rewards.
"Those who joined simply because it was a job have found that they're now committed to a career in the sector. They're doing social care degrees, adult nursing and more."
Donald Mackenzie, head of personnel at Michelin, said: "It is great to see good local job opportunities being given to our employees.
"They have a chance to transfer their skills and knowledge, and learn something new, in a different career, in a different organisation.
"I know they be an asset to their new employer."