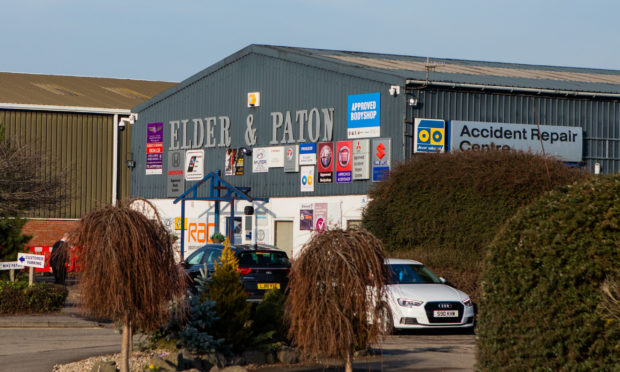 A £500 reward is on offer for the identity of a masked raider who spent hours attempting to break into a number of cars parked outside a Perth bodyshop on Friday morning.
Fair City firm Elder and Paton, which repairs vehicles at its Arran Road base, was targeted in the small hours of the morning.
The culprit, whose face was covered by a scarf and black baseball cap, was caught on CCTV attempting to break into a number of cars parked in the business's courtyard before fleeing the industrial estate.
He arrived just after 1am and spent hours as he worked his way around the various vehicles parked outside the bodyshop.
Bosses at Elder and Paton have offered a £500 reward for any information that will lead to the culprit's arrest.
Security footage also captured two young men walking past as the attack was happening. Management at the auto-repair shop say they want to speak to the pair.
In a statement, the company stated: "In the early hours of this morning this man attempted to break into several vehicles in our front car park. Unfortunately he had his face well covered up.
"He spent over two hours trying to enter vehicles, but he managed to get away. We watched the CCTV and he headed right towards the river possibly headed towards North Muirton.
"There is a £500 reward for anyone who saw anything or information for the arrest of this man. Hopefully with everyone's help we can get him off the streets.
"Please can the two boys who were walking along Arran Road in the early hours of this  morning please come forward as they walked right past a man who was attempting to break into a van."
https://www.facebook.com/permalink.php?story_fbid=3159752307402253&id=129237590453755&__xts__%5B0%5D=68.ARAEZuYcZq7ysh4OdsrZ-9_FyRleycJu3_04t5pDbJr5iEwnukY7Si4FtMpkbdC2Aq7v6rTi1N8iMCeAy1bJKlnoRrcvqxpU0sKDQDMpv8vIWlEVQK88HqFG99JuQauokQDA6B3TMZEw3Yqyb7gGrVKwWdVHUO8bVkyfZPakb-nqh3xDTC8f0WqbqwFq83Es4hbdPgsPjkyX-K_aRljlqxcX23VtMLdlSe09sWTMzZcA4PPjz-FjoydY1kffafGplS-AsRmoHLEN1oINl9YsQ3lBQp9peekCIwy4K1WsRzb_mbrcKHS4lp7_qaHmU_UWCPkLv1k3Sk9TrHTUOmCnesxP5g&__tn__=-R
A Police Scotland spokesman urged anyone with information to come forward.
Last year, vandals caused £3,000 worth of damage to vehicles at Elder and Paton when they kicked the wing mirrors off six cars parked outside the business.
City centre councillor Eric Drysdale said: "It's really appalling to think at any time that this level of vandalism and damage can be perpetrated.
"It is all the more difficult to accept at a time like this when communities need to be sticking together."