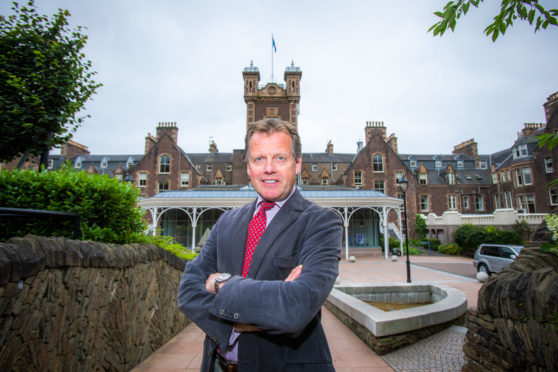 A leading hotelier says more support is needed to safeguard Scotland's hospitality sector.
The plea for further financial aid comes after the Pitlochry Hydro Hotel was forced to permanently close its doors when its parent company, SLG, went into administration last week.
Stephen Leckie, Chief Executive of the Crieff Hydro Family of Hotels spoke of his concerns for his own chain of hotels.
He said while he is thankful for the support the industry has received, more needs to be done.
"We are grateful for government and bank support but we need more if we going to survive this.
"We are all just desperate to get back to work and pay our taxes, and pay our employees."
Mr Leckie, who also chairs the Scottish Tourism Alliance, currently has around 900 staff on furlough.
He said while the government is doing the right thing in ensuring public safety, the coronavirus pandemic is "not a single issue crisis".
Mr Leckie spoke of the financial impact of the pandemic, saying: "We have more debts and we are having to take out more loans.
"We have taken out loans already and we need help."
Scottish Conservative MSP for Mid Scotland and Fife, Murdo Fraser believes more financial support must be given to support Scotland's tourism businesses, saying 2,500 of them had received no income during the pandemic.
Mr Fraser raised concerns at Holyrood of tourism businesses sitting above the £51,000 rateable value threshold not receiving Scottish Government support.
He said: "There are more than 2,500 tourism businesses in Scotland that sit above the £51,000 rateable value threshold which have received no grant support so far from the Scottish Government.
"Those medium to larger businesses are the lifeblood of the industry. They are major employers but have received zero income since lockdown began."
He described the closure of the Pitlochry Hydro Hotel as "very alarming", adding it will be a "massive blow to the economy of Highland Perthshire".
Cabinet Secretary for Culture, Tourism and External Affairs, Fiona Hyslop responded saying she "agrees" with Mr Fraser's concerns but added the Scottish Government is "not currently in a position" to implement such support.