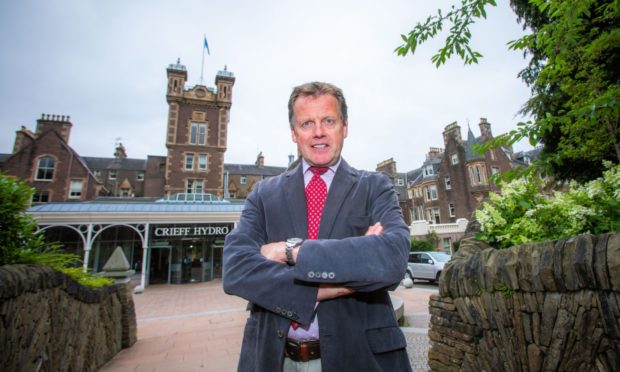 All 241 staff at a leading Scottish hotel chain are at risk of redundancy, as bosses battle a catastrophic downturn in trade.
Workers at the Crieff Hydro group – a portfolio of seven hotels including Murraypark in Crieff – have been told they could be out of work by August.
Chief executive Stephen Leckie said he hopes to save more than half of the workforce, and told The Courier about 80 staff may have to go.
"It's just tragic, but there is just no guarantee of revenue for us in the future," he said. "We are not blaming anyone. In the same way that the government has to protect the NHS and people's lives, I have to protect my company."
Mr Leckie said: "When we closed our doors at the end of March, it was one of the darkest days in our 150 year history – and this is another," said Mr Leckie, who also chairs the Scottish Tourism Alliance.
"The impact coronavirus has had on our industry and business has been immediate and drastic. As a family run business built on the strength of our people, discussing potential redundancies is the toughest step we've ever had to consider.
"I am personally devastated for every one of our team who could lose their job."
Mr Leckie said he had done all he could to "look after our people," but despite taking action to reduce costs it is anticipated when the hotels re-open bookings will still be down between 30% and 50% for the best part of the year.
"This will amount to a revenue loss of at least £17 million (50%) in the current financial year," he said.
"For every month we've been closed with zero income, we've had to pay £500,000 just to keep our buildings safe and insured. This would have a profound effect on any business."
The company has made use of the government's job retention scheme and taken out extra bank loans of around £5 million.
"This is the best chance of survival when we are eventually allowed to reopen," said Mr Leckie.
"This comes with a heavy financial burden, but it is the only way forward to rebuild the business and protect the remaining jobs."
The chain also includes the Peebles Hydro and The Park in the Borders, and the Isles of Glencoe, Ballachullish Hotel and Kingshouse Hotel in West Highlands.
Marc Crothall, Chief Executive of the Scottish Tourism Alliance described the announcement as "a harsh reality of the impact of Covid-19."
He said: "Crieff Hydro is a really good well run and managed group of hotels who have always invested in their employees and I know it will be hurting the family in having to take this action.
"But without any income coming in for many months and coupled with high levels of monthly fixed costs and with no sign of any long term grant support being made available to help bridge the gap in the months ahead as tourism demand and occupancy levels return, businesses like this are now faced with little or no choice but to cut employee costs."
Mr Crothall added: "I suspect we will be hearing similar stories from many more tourism and hospitality businesses in coming days."
Willie Macleod, Scottish director of trade body UKHospitality Scotland, said: "Unfortunately, this is not the first such announcement and we expect is likely to be followed by many more. Hospitality businesses in Scotland have been starved of revenue for almost three months at a time of year when they would otherwise be extremely busy."
He said: "Instead they are closed and burning cash to meet unavoidable fixed costs – this is an unsustainable position and it comes as no surprise that businesses have to take action like this in an attempt to survive until they are able to reopen on a viable basis.
"Hospitality businesses greatly value their experienced and loyal teams and have gone to great lengths to avoid the position that Crieff Hydro now finds itself in."
Local SNP MSP Roseanna Cunningham spoke of her shock at the announcement.
"Crieff Hydro is a landmark hotel and an important player in the tourism sector, not just in Strathearn but in the whole of Scotland," she said.
"It is, therefore, very disappointing indeed to learn that the group has started a consultation with its staff on what the future holds.
"The hospitality sector has been hit extremely hard by the impact of the coronavirus and whilst this development saddens me, it does not entirely surprise me.
"This will be a very worrying time indeed for the employees of Crieff Hydro and Murraypark and I sincerely hope that compulsory redundancies can be kept to an absolute minimum."