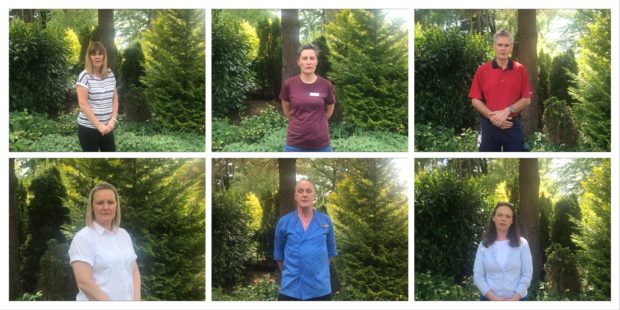 A Kinross Children's Hospice has held a virtual Remembering Day for bereaved families.
Rachel House, which provides end of life care for children, marked the annual Remembering Day online at the end of last month.
It exists to provide families with the opportunity to gather and remember their children.
Although the day usually takes place in person, current social distancing restrictions mean it was held virtually this year, with staff members paying tributes at a distance from each other.
Rachel House staff members read the name of every child who had passed away at the hospice in a poignant reflection as part of the Remembering Day.
Activities Coordinator at Rachel House, Alison Blair said: "It's extremely important to us that we provide families this communal opportunity to remember their child with others who have walked with them.
"As we are all living in relative isolation right now, we knew this was going to be a particularly emotional day, when the absence of these children would be felt on a truly profound level.
"The current pandemic has put many obstacles in front of us, but we're even more determined to reach the families we know. This is a powerful example of that."
Lynne Allen from Fife lost her son, Ethan, in 2012 and attended the Remembering Day in 2013.
She and her husband watched the service online and wish to do the same next year.
Lynne said: "We lost our son Ethan in 2012 and attended the remembering day in 2013.
"We remain so grateful to Rachel House but found it tough showing up in person.
"My husband and I both tuned in for the online service this year and would really like to do the same next time.
"We watched on, knowing that there were so many other bereaved families alongside us who carry this heartache every single day too. It was a shared experience we all understand."
CHAS, the charity behind Rachel House, has adapted a range of its services to ensure practices are in line with current guidelines.
The charity has set up Scotland's first virtual hospice as part of efforts to continue providing support to families who need it.
Having been operating for two months, the virtual hospice offers families a range of support such as clinical guidance, financial advice, and bereavement support.