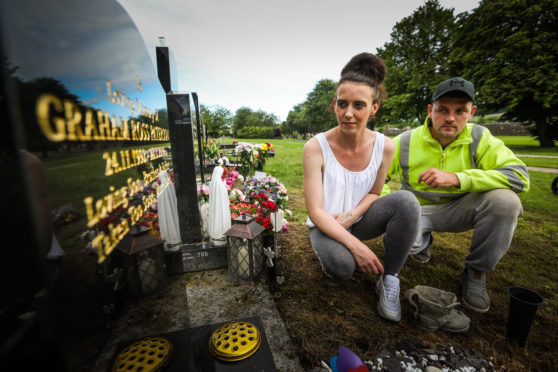 A Crieff family has been left furious after council workers ruined a young dad's grave two weeks after the headstone was set, leaving his children unable to visit on Father's Day.
Scott Paterson was left "absolutely raging" over the treatment of his brother Graham's resting place, accusing council employees of tossing flowers and a specially made ornamental plaque carelessly across the ground.
Graham Paterson passed away suddenly last year, aged 26.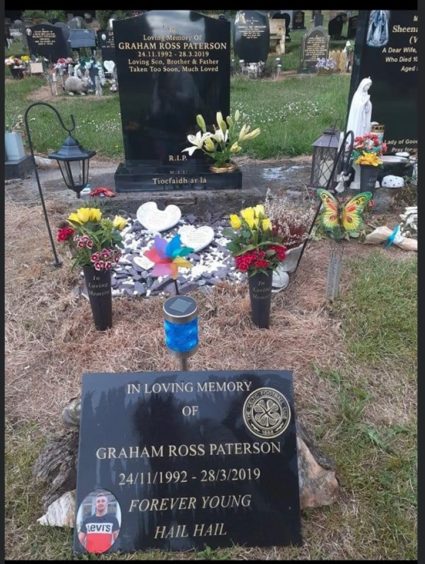 Between Friday and Sunday, Perth and Kinross Council covered the grave in a huge tarpaulin to catch soil from another grave, scattering the carefully placed arrangements on Graham's burial spot.
Scott said: "It was terrible. I couldn't believe the way they (council workers) went about it.
"The way they've just thrown all the ornaments to the side – and the specially made plaque, it could have broken.
"It's just shocking. Really disrespectful. I'm absolutely raging – the money that's been spent to bury my brother and this is how it gets treated."
Scott's partner Sarah Rodgers, said it looked like the grave had been vandalised.
She said: "They've damaged all the stuff and flung it out of the way like it doesn't matter.
"It's the way they have treated his stuff. Graham was only 26 when he died suddenly last year and the grave has only been up for two weeks.
"And this happened at the weekend on Father's Day and Graham has kids – they couldn't come down to see that. It looked like someone had vandalised it."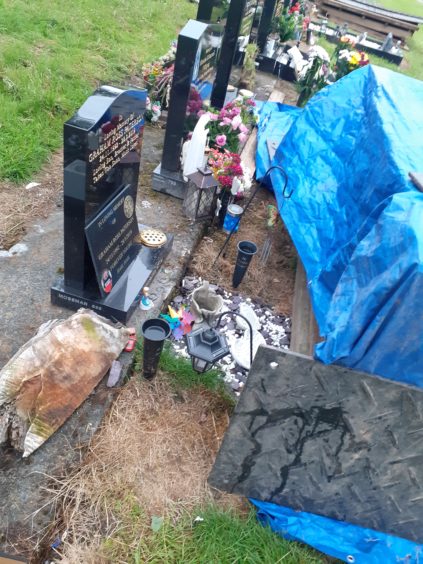 Both Scott and Sarah said they were unhappy with the apology they received from Perth and Kinross Council and asked the local authority to reconsider the way graves are dug in the future so they do not interfere with other people's resting places.
Sarah said: "It needs to be changed because it is a horrible way to do it.
"It's not respectful for family members."
Perth and Kinross Council claim their workers were following protocol.
A spokesperson said: "We apologise for any distress that may have arisen in this instance and would stress there was no intention to cause this.
"It is standard industry practice for any soil excavated from a burial plot to be put into a container placed immediately adjacent to the excavated plot.
"Where this container is placed in relation to the plot depends on a number of factors including ground conditions, health and safety, and access for mourners.
"Following the burial, the container of soil will be removed and any marks on adjacent ground will be repaired.
"In some cases we will temporarily remove ornaments from grave sites to protect them from damage; we are not aware of any damage caused to ornaments when this has previously been carried out."