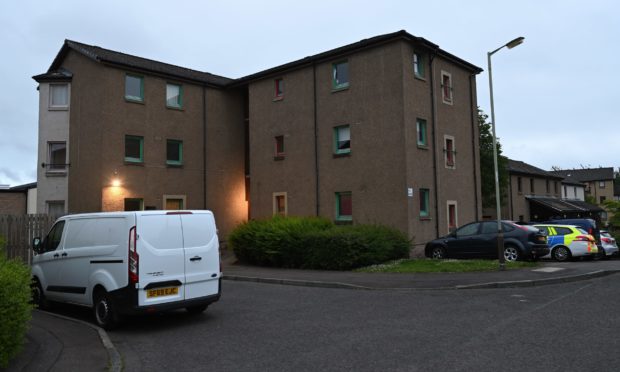 Police have launched an investigation into the sudden death of a 35-year-old man at a block of flats on the outskirts of Perth city centre.
Emergency services rushed to reports of a body within a property at Fechney Park around 6.30pm on Sunday with the cause of death being treated as unexplained.
Concerned residents heard officers using a battering ram to enter the top floor flat in the apartment block ran by Hillcrest Homes.
Police were seen entering and exiting the building throughout the evening with a forensic team also reporting to the scene.
One witness told The Courier: "You could see the forensics officers taking flash pictures in the flat, which was in total darkness.
"The forensics team left at 11pm, taking a large evidence bag with them.
"Police were still standing guard just inside the block itself."
Residents were still able to access the block throughout the evening and the street remained open.
On Monday morning a solitary police car was parked outside the block of flats but there was little activity within the building and the block was not taped off by officers.
Blinds remained drawn on a number of the flats within the unit and one window was boarded up on a downstairs property.
One nearby resident told The Courier he only became aware of the previous night's activity when he saw the police car stationed across from the building the following morning.
Police Scotland were unable to say if they were treating the death as suspicious, stating only that it was currently unexplained and that a report would be submitted to the Procurator Fiscal.
A police spokesperson said : "Officers attended at Fenchey Park in Perth at 6.30pm on Sunday June 28 following the sudden death of a 35-year-old man.
"The death is being treated as unexplained and a report with be submitted to the Procurator Fiscal."