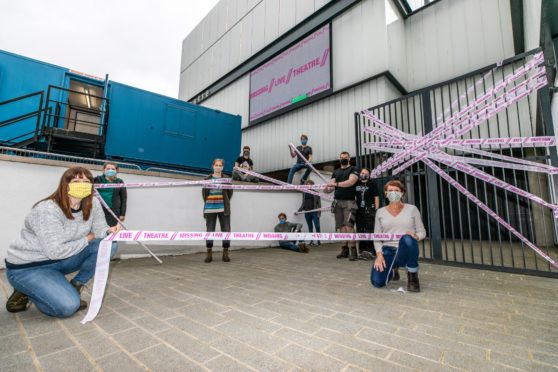 Crisis-hit theatres across Tayside have been given a funding boost of more than £1.6 million to stave off redundancies and bring workers back from furlough.
Dundee Rep, Horsecross Arts in Perth and Pitlochry Theatre have all been granted funds by Creative Scotland from a £7.5 million pot designed to help the struggling arts industry deal with the fallout from coronavirus.
Creative Scotland has told the theatres they can use the money to save jobs and bring back furloughed staff, increase commissioning and employment opportunities and help remove the "threat of insolvency".
Horsecross Arts, which is currently in consultation with staff over 120 redundancies, said its £750,000 funding award will help 18 staff members either keep their jobs or be brought back from furlough.
Employees slam Horsecross Arts redundancy talks as 'a joke' with 120 jobs under threat in Perth
Nick Williams, Horsecross Arts chief executive, said: "It is a huge relief to receive this funding.
"It helps us secure the finances of the organisation so that we can plan for the future.
"We'll be able to use a proportion of the funding to support 18 roles, either by removing the threat of redundancy, or by bringing employees off furlough to work on sustainability plans.
"It will help us create a new programme of work for our communities that takes into account the restrictions we'll be operating within for the foreseeable future.
"The redundancy consultation process we have been forced into because of Covid-19 is incredibly distressing for all involved.
"The fact that we can safeguard some roles with this funding is very welcome news to be able to share with our employees."
A spokesperson for Dundee Rep and and Scottish Dance Theatre said of its £480,000 award: "Our Dundee and Tayside audiences are incredibly loyal to us and this funding will allow us to create a bespoke programme of work for them to engage with while current restrictions mean we cannot stage performances for larger audiences in our main auditorium and on tour.
"The programme we have designed is also explicitly intended to create significant paid opportunities for freelance artists and practitioners and we look forward to working with them to deliver this programme in the coming months."
Pitlochry Theatre received £400,000.
Pitlochry theatre job losses and threat to 6,900 creative posts across Scotland sparks call for emergency recovery fund
A spokesperson said: "As many know, we generate around 85% of our income each year through our programme and so we are looking forward to welcoming theatre audiences to Highland Perthshire as soon as possible.
"With this investment from the Performing Arts Venue Relief Fund, we can look to the future and plan our 70th birthday next year.
"The money will help us to continue to make work for people across the country, to be a theatre for all and a theatre for a lifetime."