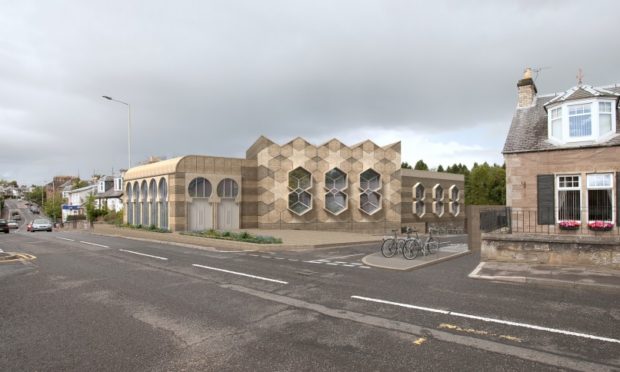 A councillor has come to the defence of plans to build a million-pound mosque in Perth, after residents raised fears about congestion and "reckless" parking.
The city's Islamic Society has tabled a fresh bid for a place of worship on Jeanfield Road.
It is hoped that the new building, which is designed to reflect the group's Scottish and Islamic roots, will accommodate the area's growing Muslim population.
A previous bid for a mosque on the same site in 2017 led to a demonstration by the self-described far-right group Scottish Defence League, who attempted to stir up hatred against the project.
The protesters – whose city centre demo was dwarfed by a counter-protest by anti-fascist groups – claimed they were upset because Perth and Kinross Council had approved the plan despite residents' complaints about parking.
The local authority has now received a handful of objections to the new plans which were submitted in July after the previous bid lapsed.
Residents argue that the mosque could lead to "reckless parking", pointing out that the area is already problematic for pedestrians and drivers. They claim there is not enough capacity to cope with worshippers during Friday prayers.
There are also fears the development could over-shadow nearby homes and could impact on emergency vehicles.
However, the plan has been supported by local Labour councillor Alisdair Bailey.
In an unusual move for an elected member, Mr Bailey has submitted a letter to planners backing the scheme.
"I wish to offer my full support for this application," he wrote. "Not only will it bring some much needed architectural interest to a brownfield site which is currently tatty and unloved, but it will also provide a purpose-built place of worship for the community."
He said the 22 proposed parking spaces met design standards. "There are no other places of worship in central Perth which offer this level of car parking and safe access from the road," he added.
"I worry that to require every new place of worship to provide one space per visitor would generate hundreds more car journeys in our city and push such developments to the very edge of the city, where they would eat up greenspace and be harder to reach by public transport or by walking and cycling."
The Perth Islamic Society, which has spent the last three years fundraising and finalising a design, said there were about 650 members of the local Muslim community.
The group said it is out-growing its current home, about 200 yards away in Glasgow Road.
Council officers are expected to rule on the planning application in the coming weeks.