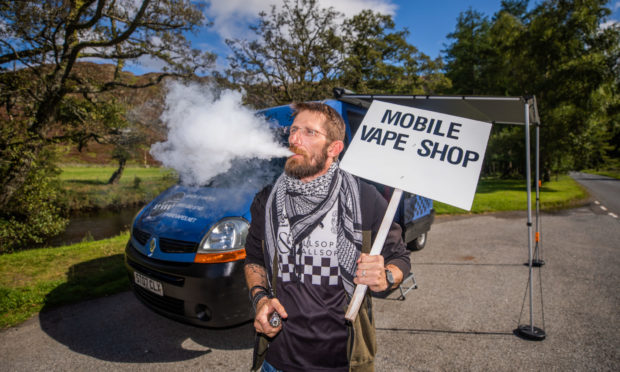 Scotland's first mobile vape shop has hit the road in Perthshire after official backing from local licensing chiefs.
Former forensic psychologist Demis Cunningham seized on a gap in the market after becoming disillusioned with life on the high street.
Just months after opening his Whisk E-Vapes store in Crieff town centre, it was raided by thieves who made off with large amounts of stock and cash.
But Demis decided to pull the shutters down for good in the face of mounting rent and his own personal mental health challenges.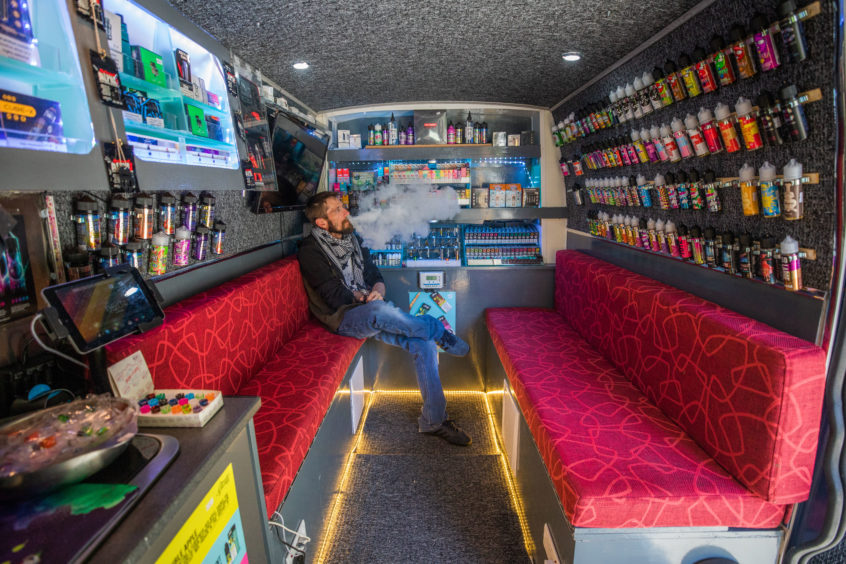 During lockdown, the 43-year-old decided on a unique way to continue to meet demand from customers around the Perthshire patch.
He took out a £15,000 loan and bought an old camper van, which he has now converted into a meal-on-meals-style service for vapers.
The business was backed by Perth and Kinross Council who approved a street trading licence after consultation with Police Scotland.
The new venture – thought to be only the second of its kind in the UK – is already proving a hit with customers and is doing wonders for Demis' psyche.
"After the break-in at the shop, the rent started building up and I just thought it wasn't for me anymore," he said.
"At the same time, I was struggling with my mental health and wellbeing and the stress of running the shop, and trying to recover the business after the break-in, was affecting me."
He said: "During lockdown, I knew I really wanted to keep the business going and I was getting more and more calls from customers asking about deliveries to their homes.
"So I decided to take the shop on the road.
"It's a lot more free-ing. When you're on the High Street you are reliant on passing trade, but this way I can just go to my customers."
Demis, who worked as a forensic consultant in prisons in England and Wales, said: "My application for a licence had to go through various members of the licensing board, including representatives of the police.
"It was a new one for them too, and I think they had to ask other local authorities if they had dealt with anything like this before."
He said: "I'm really enjoying it and it is exactly what I need to maintain some harmony in my life.
"I've gone from meeting people like Peter Sutcliffe and hanging around maximum security prisons to driving around the wide open spaces of Scotland. I sometimes think to myself, have I got the best job in the world?"