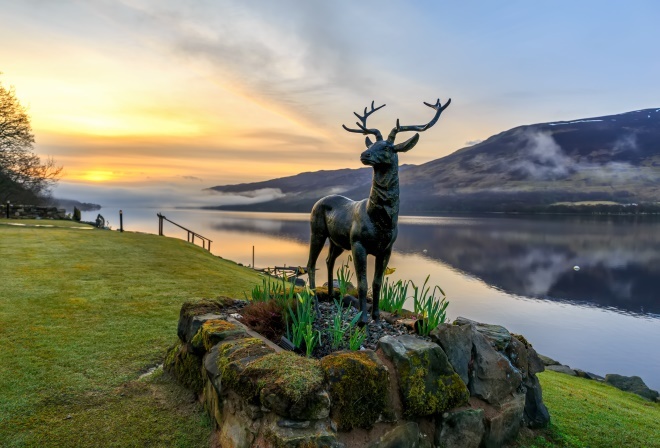 Perthshire's striking scenery is the backdrop to an innovative arts trail which was launched this week.
A life-sized, multi-coloured metal bull crafted by the artist behind Edinburgh Airport's iconic towering thistles and a mirrored scenery-viewing cube which 'disappears' into its surroundings are just two of 13 installations on the trail.
The BLiSS trail links the villages of Balquhidder, Lochearnhead, Strathyre and St Fillans in an initiative which is the brainchild of LETi, the Loch Earn Tourism Information group.
They hope the arts trail will encourage more visitors to stop at, spend time in, and enjoy the villages and their spectacular settings by creating a new attraction for people of all ages to enjoy, boosting tourism in the area and the local economy.
The group also wanted to create the trail to commemorate and celebrate the Year of Innovation, Architecture and Design 2016.
The name BLiSS, suggested by LETi member Kenny Higgins, is made up of the first letters of the four villages with the letter 'i' representing innovation and the universal tourism information symbol.
The collection includes works by artists Rob Mulholland, Kev Paxton, Heather Gray, June McEwan, Iain Chalmers, Lynne Schroder and Jeremy Cunningham as well as architects Ruairidh Moir, Daniel Tyler and Angus Ritchie.
In addition a group of third year art students from Perth College UHI is developing a conceptual art team project as part of a new degree course.
A number of ornamental features including a miniature mill house, a stag, a totem pole road sign, a cockerel mile marker and an old red phone box are also highlighted along the arts trail route at www.robroycountry.com/blisstrail.
Liz Buchanan of VisitScotland said: "LETi is to be congratulated on this fantastic, inventive achievement – creating this new attraction to connect Balquhidder, Lochearnhead, Strathyre and St Fillans is a great way of encouraging more visitors to stop off and spend time in and around the four villages."
Kim Proven, LETi chair and owner of a self-catering business at Lochearnhead, added: "We wanted to create something new – an attraction that would capture the imagination of people of all ages and become a talking point.
"Each of the pieces is interesting, thought-provoking and entertaining so we hope the trail will become a real favourite with visitors and make our villages even more attractive as destinations that people will seek out."