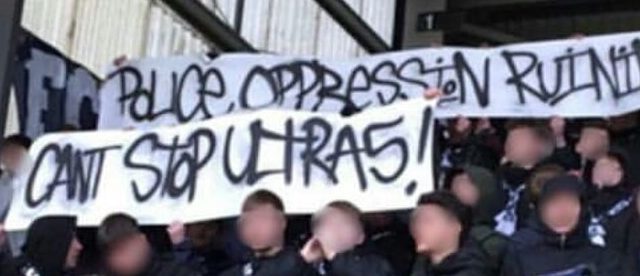 Claims that a controversial group of St Johnstone fans were to be banned  have been refuted by the club.
The "ultras"-style Fair City Unity (FCU), known for their chanting, drumming and banners, have fallen foul of the club, police and stewards. T
hey have also been involved in clashes with opposing supporters, particularly in Dundee during the Hogmanay clash at Dens Park.
However, Saints have denied suggestions made on social media that the FCU were no longer wanted at McDiarmid Park.
A statement issued by St Johnstone says: "Fair City Unity, as a group, has not been told they are banned from the stadium and they've not been told they will not be allowed into the stadium wearing FCU branded clothing."
The club have, however, stopped FCU from using a previously designated area of McDiarmid Park following a series of unsavoury incidents with opposing football fans.
* For more on this story see Friday's Courier, also available as a digital edition.