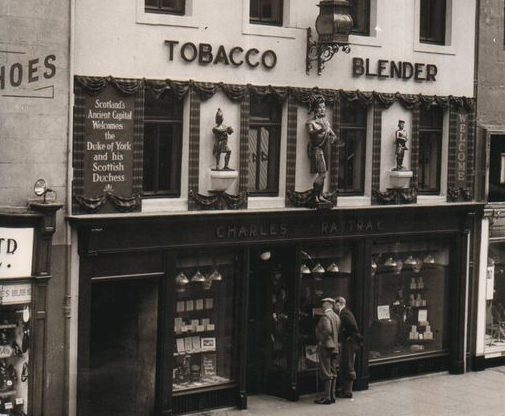 Items from a fondly remembered Perth business, which boasted a prime minister among its customers, are being auctioned in the city.
Generations of local people will remember the quirky frontage of tobacconists Charles Rattray, which had Highlander and native figures on display on the first floor and in the window.
The shop at 160 High Street, across from Perth Theatre, was occupied by the business from 1915 until 1981 and later demolished.
Charles Rattray blended and sold tobacco for worldwide customers, with the pipe-smoking prime minister Harold Wilson one of the famous names on a long list.
Now a selection of tobacco jars including 18th century Dutch East India company examples, along with a group of carved Highland and native figures, have been put up for sale by a descendent of Mr Rattray.
They are being sold by auctioneers Lindsay Burns and Company, who sold pieces associated with the Rattray shop in 2006, including a large Highlander figure which made £4,200.
"We are delighted to be selling such an important collection of objects of local, historical and commercial value," said Nick Burns.
"A lot of people from Perth and the surrounding areas will fondly remember Rattray tobacconists.
"It had an olde worlde feel and conjured up memories of a different era.
"While cataloguing the collection and speaking to people it was in living memory they remember ladies hand-rolling cigarettes in the shop."
Various pieces from the shop are housed in Perth Museum.
The auctioneers say the collection will have a wide appeal to everyone from people who collect smoking-related memorabilia, Delft collectors and those interested in items with a strong local connection.
"We expect the collection will do well and will bring in several thousand pounds," said Mr Burns.
"Really something is worth what someone is prepared to pay."
The Rattray collection will be sold on Tuesday April 25, the first day of a two-day sale.
Viewing will be on Saturday, Sunday and Monday prior to the sale which also includes clocks, furniture, paintings, Monart glass, ceramics and Asian art.