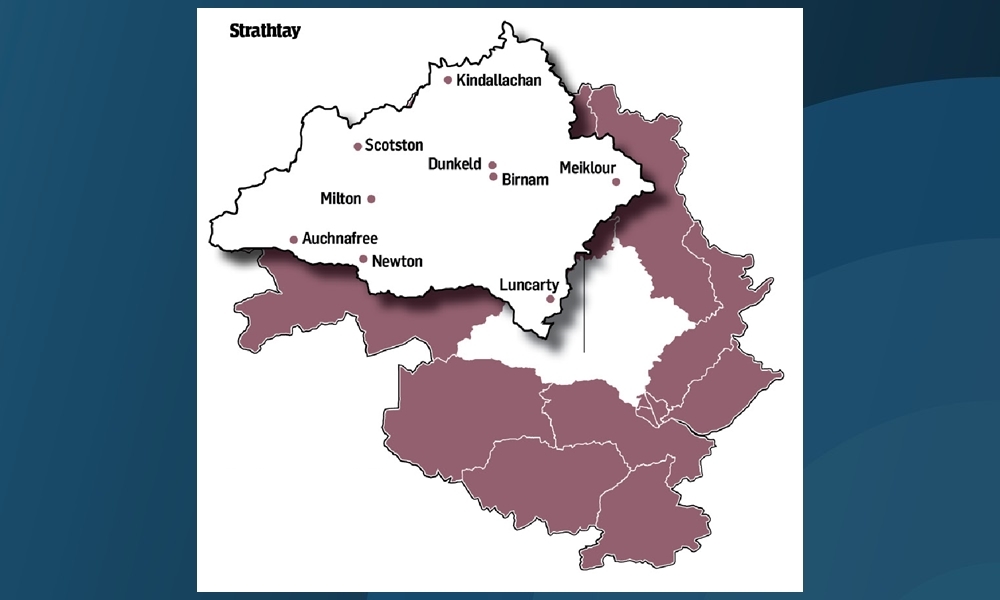 Taking in some of the area's most scenic landscapes, the Strathtay ward is the second largest in Perth and Kinross in terms of land mass.
Covering a large area north and west of Perth city, the largest settlement in the ward is Dunkeld. The geography of the area means that the majority of the population – just over 10,000 people – live in communities following the route of the A9.
The ongoing dualling of the A9 is the biggest issue facing Strathtay ward at the moment with major debate over the proposed route of the project as it makes its way through the district.
The ward is also the site of Scotland's only completely new secondary school in 20 years, the £32.5 million Bertha Park High School.
A large amount of the western part of the ward is covered by hills and glens and with people living in small communities. The eastern part of the ward contains a number of forests including the Tay Forest Park and the Craigvinean forest.
Given the nature of the area the ward is a popular destination with walkers and outdoor enthusiasts.
The River Tay is a focus for much of their activities and the health of the river with regard to salmon stocks is important for anglers and the many people employed in related fields.
The largest communities in the ward besides Dunkeld are Birnam, Luncarty, Stanley and Bankfoot while the largest employer based on staffing levels is the Hilton Dunkeld House Hotel which lies on the banks of the River Tay.
There are no other employers with more than 25 workers in the ward.
---
Candidate profiles
The Courier invited each candidate to submit a short introduction to themselves and, if they wished, a video explaining why they deserve your vote.
Elspeth Coutts (Green)
Originally from Fife, I have lived in Kinclaven in the Strathtay ward for almost seven years where I am involved with various community initiatives in Stanley and more recently the Dunkeld Climate Cafe.
Most of my professional life I have been involved in land and environmental management and consultancy, including agriculture, countryside development, golf environment and home energy.
My main policy interests are around sustainable land use, climate change and energy, citizen's income and affordable, sustainable housing.
I believe there is so much scope for innovative local action for a much greener and more socially just future and would like to help bring more of it to the fore in Strathtay.
Ian James (Conservative)
Ian James is one of the two Conservative and Unionist candidates to contest the Strathtay ward.
"Living and working in Perth and Kinross I am very passionate about the area," he said. "I decided that if I wanted to see changes, rather than complain about it I should stand up to be counted and that is why I am seeking your support.
"I am unhappy with the waste of public money and lack of investment by the current SNP run council in the things that matter.  They continue to spend money on projects such as expensive new council chambers in Perth whilst increasing our council tax. I believe this is unacceptable.
"I make no promises of being able to change things overnight. What I do promise, is that I will represent everyone fairly and I will seek to influence the council that the Strathtay ward gets its share of investment in infrastructure, education and healthcare."
Anne Jarvis (Conservative)
The other Conservative candidate is Anne Jarvis, who has lived locally for more than three years.
"Moving to Perth and Kinross to be nearer my family, I was approached and subsequently selected as candidate for Strathtay," she said.
"I have been a long-serving councillor in East Dunbartonshire and will bring this experience to speak for Strathtay residents.
"Travelling throughout Strathtay  people tell me their voice is not heard in the council chamber.
"My promise is to always act in the best interests of everyone in Strathtay.
"Both rural and urban areas' voices will be heard loudly in the council chamber.
"The SNP group have raised council tax by 2%. There is a double whammy to hard-working residents who own mid and larger size homes who face additional rises of up to 22%.
"From Almondbank to Dunkeld communities are suffering from development, where disruption to residents is never considered. I will fight for those communities."
Grant Laing (SNP)
A current SNP councillor representing Strathtay ward, Grant Laing is standing again.
"Having lived here all my life I have a clear understanding of the matters that are of real importance around this ward," he said.
"My contribution has been and will continue to be that local voices are heard and local solutions are implemented.
"I am very happy to have been involved with the drive to redevelop Blairgowrie Recreation Centre, the new PH20 Sport and Swimming Centre project in Perth and the moves towards a community and sports hub in Stanley.
"Being part of the budget review group, I am proud that our budget kept funding for public toilets, including Dunkeld, protected rural bus service funding along with many other positive decisions which were specific to the SNP budget.
"With Stanley and Glendelvine Schools facing a review within the next two years, I can guarantee that I will be at the forefront of the consultation process alongside parents and pupils using my vast local knowledge in this area to get the best results for our children and their schools."
John Kellas (SNP)
Councillor John Kellas says he is "honoured" to have been selected to stand again.
"As a long term resident I have been pleased to have been actively involved supporting and encouraging local events and clubs, all of which helps to define our area as a great place to live and work," he said.
"I have also been pleased to have made a personal, positive contribution in turning our economy into one of Scotland's success stories with unemployment moved from 4.5% to 1.1% and retailing seeing a 17.4% improvement in retail footfall against a national 1.7% negative trend.
"Being born in Perthshire with a strong sense of local identity makes it seem easy to retain a focus on local needs and issues of real importance to our communities.
"Finally, as a family man, I understand the importance of providing good housing, a great education environment, security and jobs to give confidence to our young people as they develop their own families and would wish to continue with that good work."
Alex Linklater (Lib Dem)
Standing for the Liberal Democrats is former journalist Alex Linklater.
"We must not allow nationalists to squander our hard-won Scottish powers, and our vital British partnerships, on the single divisive issue of another referendum," he said.
"The most important message of Scottish Liberals is that we get past narrow ideological difference, left or right or nationalist, and work together – at both national and local levels. And I would be grateful for the chance to do that at home, here, in the Strathtay ward, where for three generations my family has lived and farmed.
"I am a former journalist and now work in partnership with the New School in Butterstone, which supports young people with learning difficulties and brings employment to a rural area. I run a small hydroelectric business, working in partnership with agricultural enterprises. I also work on behalf of hydro operators around Scotland to combat the problem of soaring business rates.
"I care as much about business as I do about the environment; as much about road maintenance as about wildlife; as much about social services as I do about local entrepreneurs."
Frank Stevenson (Labour)
Labour's candidate, Frank Stevenson, has lived in the ward – both in Luncarty and Almondbank – for more than 20 years.
A primary concern to him is the significant changes planned or proposed over the coming years around Strathtay – the Cross Tay Link Road, Almond Valley, Bertha Park, A9 dualling, wind turbine developments and housing plans.
He says if elected he would "work tirelessly to ensure local residents concerns and issues are highlighted and addressed, and strive to protect the character of this beautiful part of the world we live in".
Married with two teenage daughters who attended local schools, he says he cares passionately about education and would prioritise the protection of school budgets.
Perth's bid for City of Culture has his full support.
"We can win it with wider grassroots community engagement, spreading the benefits beyond Perth," he said.
He will also campaign to improve bus services, saying: "They are a vital service particularly for the elderly in our rural communities."